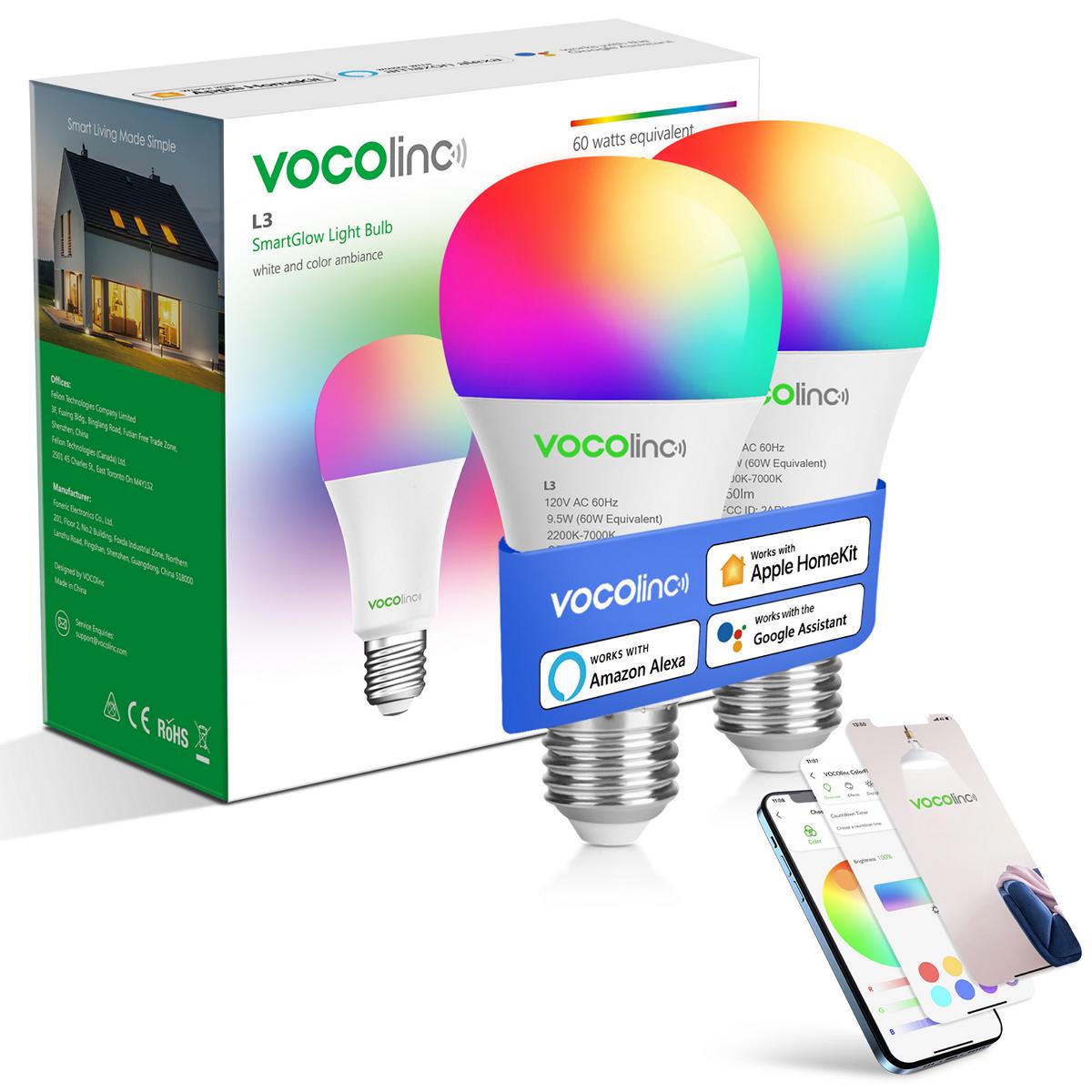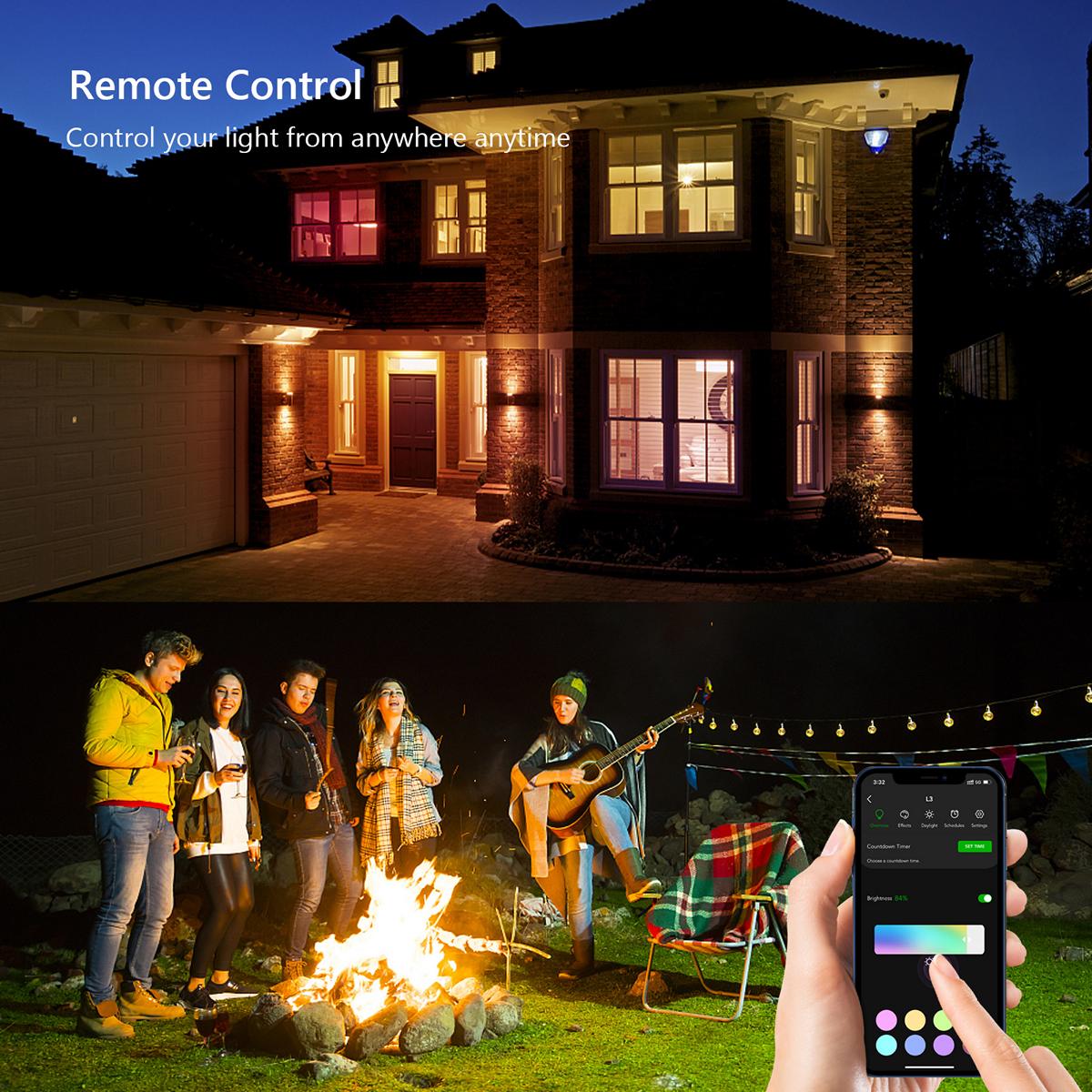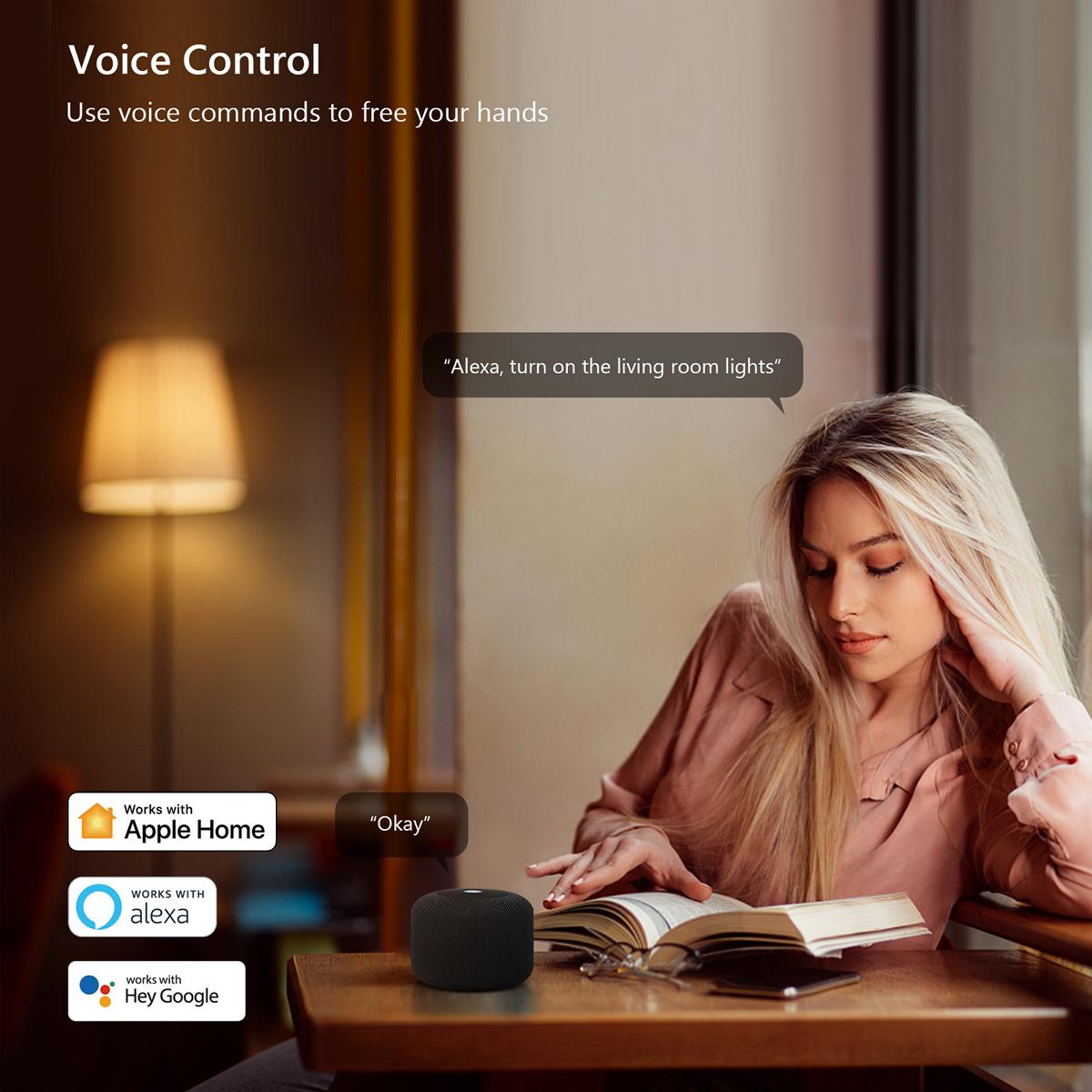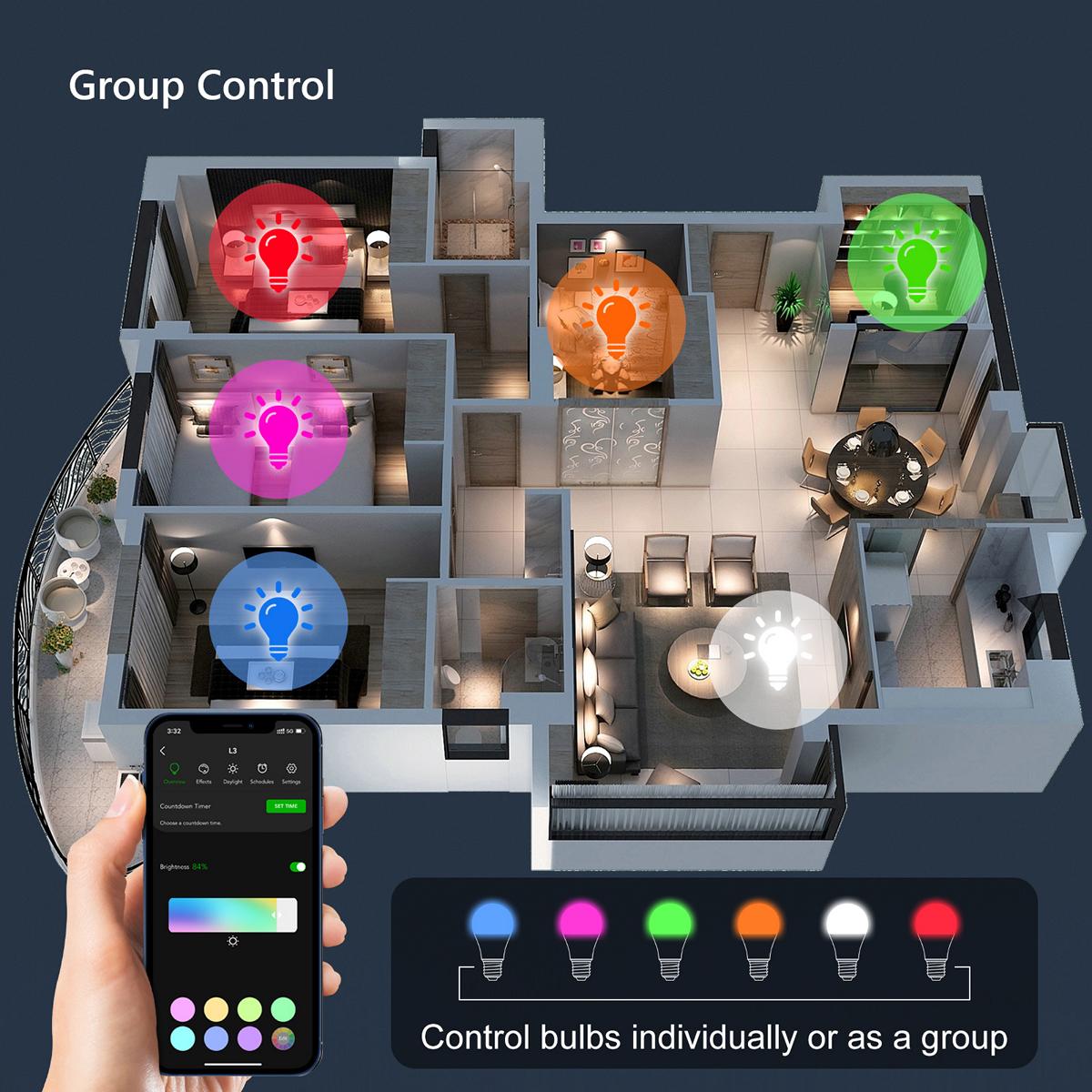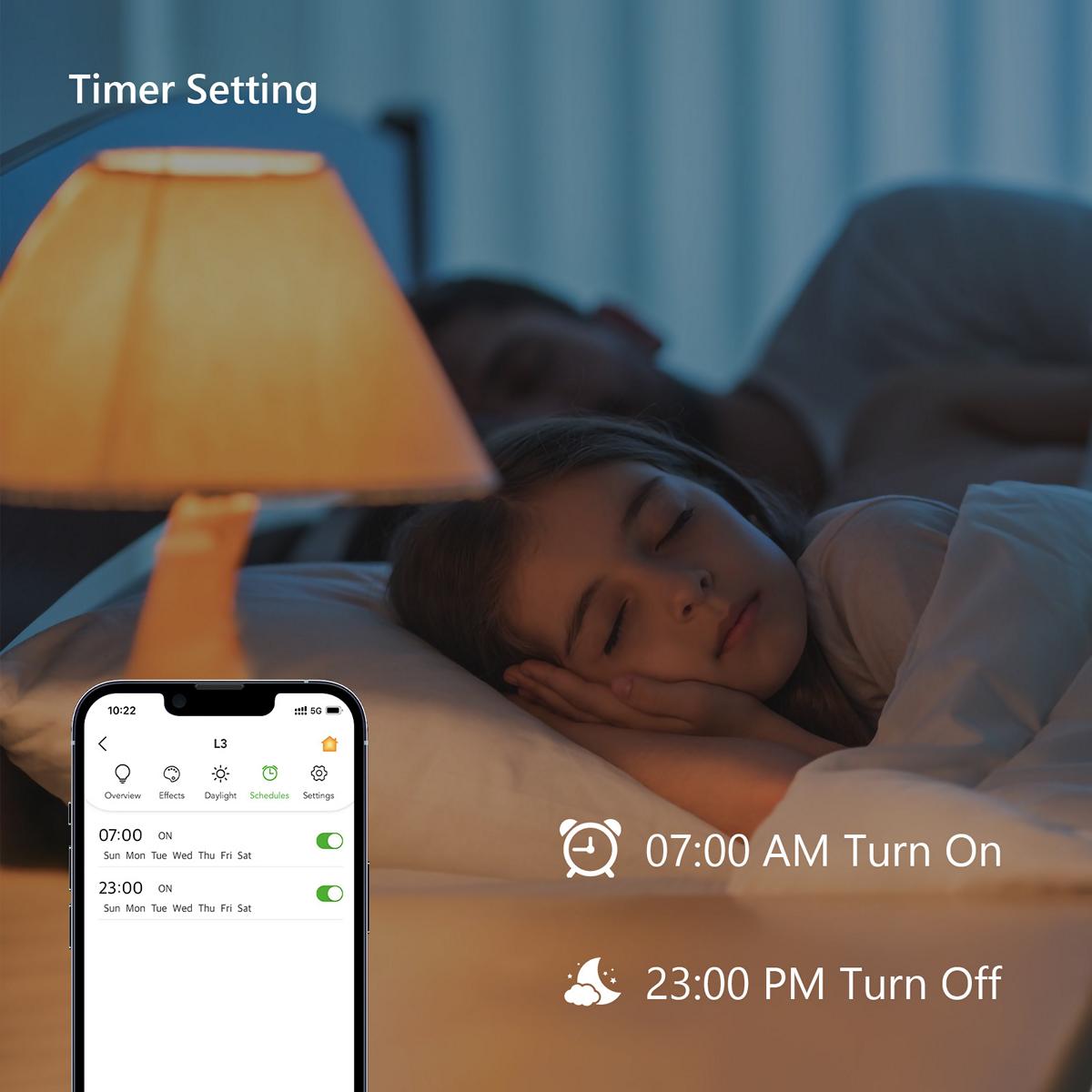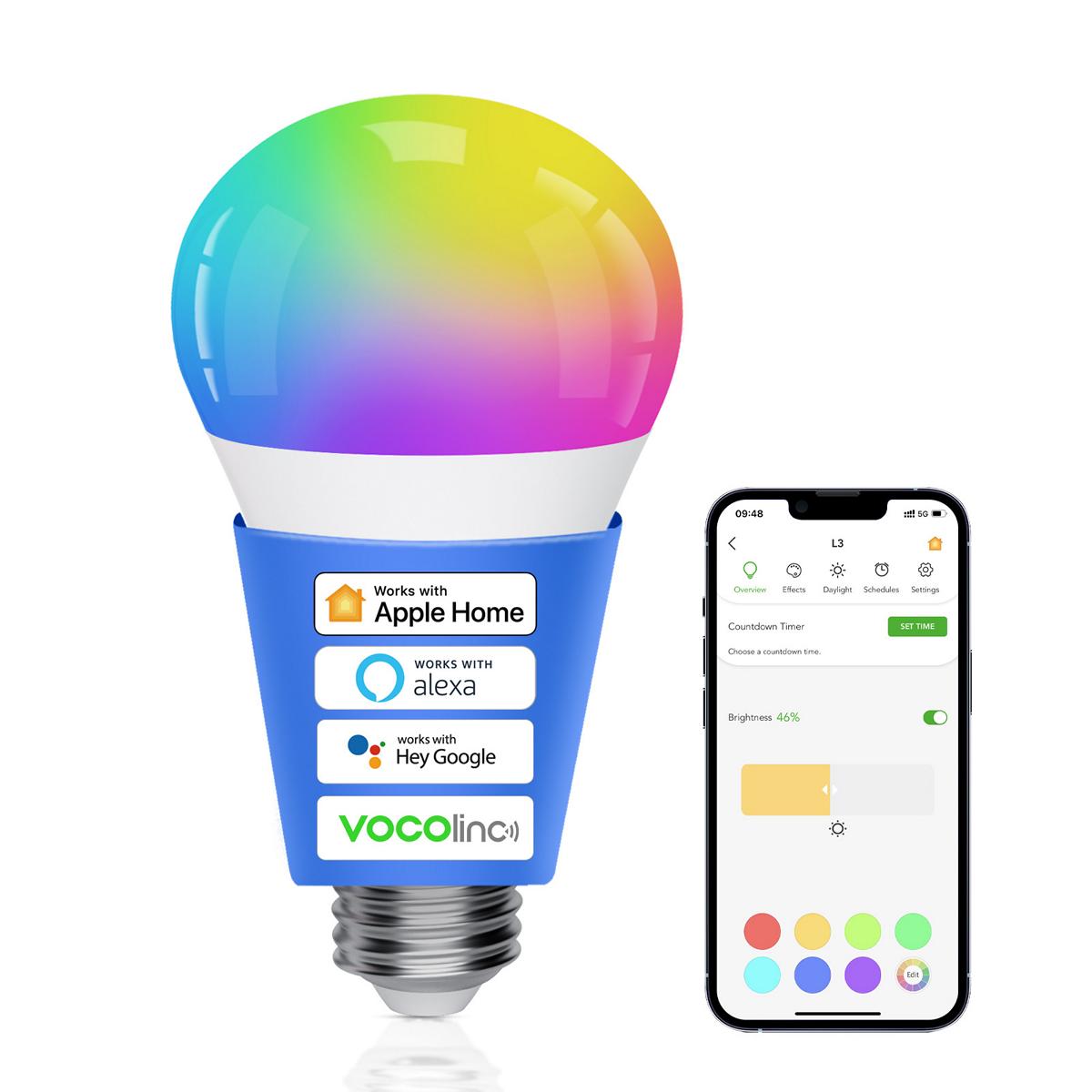 VOCOlinc SmartGlow WiFi RGBW Ambiance LED Light Bulbs – L3-2 Packs



Control with your Voice and the VOCOlinc app >
Works with Apple HomeKit, Amazon Alexa, and Google Assistant
; The VOCOlinc app supports iOS and Android.
Brilliant Colors and Clean Whites >
Choose from 16 million colors and cool to warm whites (2200K-7000K) with up to 850 lumens of brightness (wattage use is only 9.5W at full brightness)
Stunning Effects and Daylight Applications >
Create the perfect ambiance for your special moments with customizable preset effects (Blink, Breathe, Flicker, Flow, Candle, and Scene modes (Daylight/Wakeup)
Handy Automations >
Set schedules to turn your lights on/off, control lights as groups, or apply a 'scene' mode (custom or preset)
Hub-Free & Remote Access >
No hub required; control from nearly anywhere via an Apple TV/HomPod/ (iOS) or VOCOlinc Cloud (Android); When pairing (during setup), this product requires a 2.4GHz network
Shipping:
The product will ship 1-3 business days after purchase, and delivery will take 4-7 business days. All orders will be dispatched from our US or Canada warehouse.

Refund:

30-Day Refund Policy

For any reason, undamaged products can be fully refunded within 30 days after the delivery date to the shipping address. Once the item is returned to Vocolinc's warehouse for inspection, the refund process will begin.

Please go to the footer menu to view the shipping policy and return policy.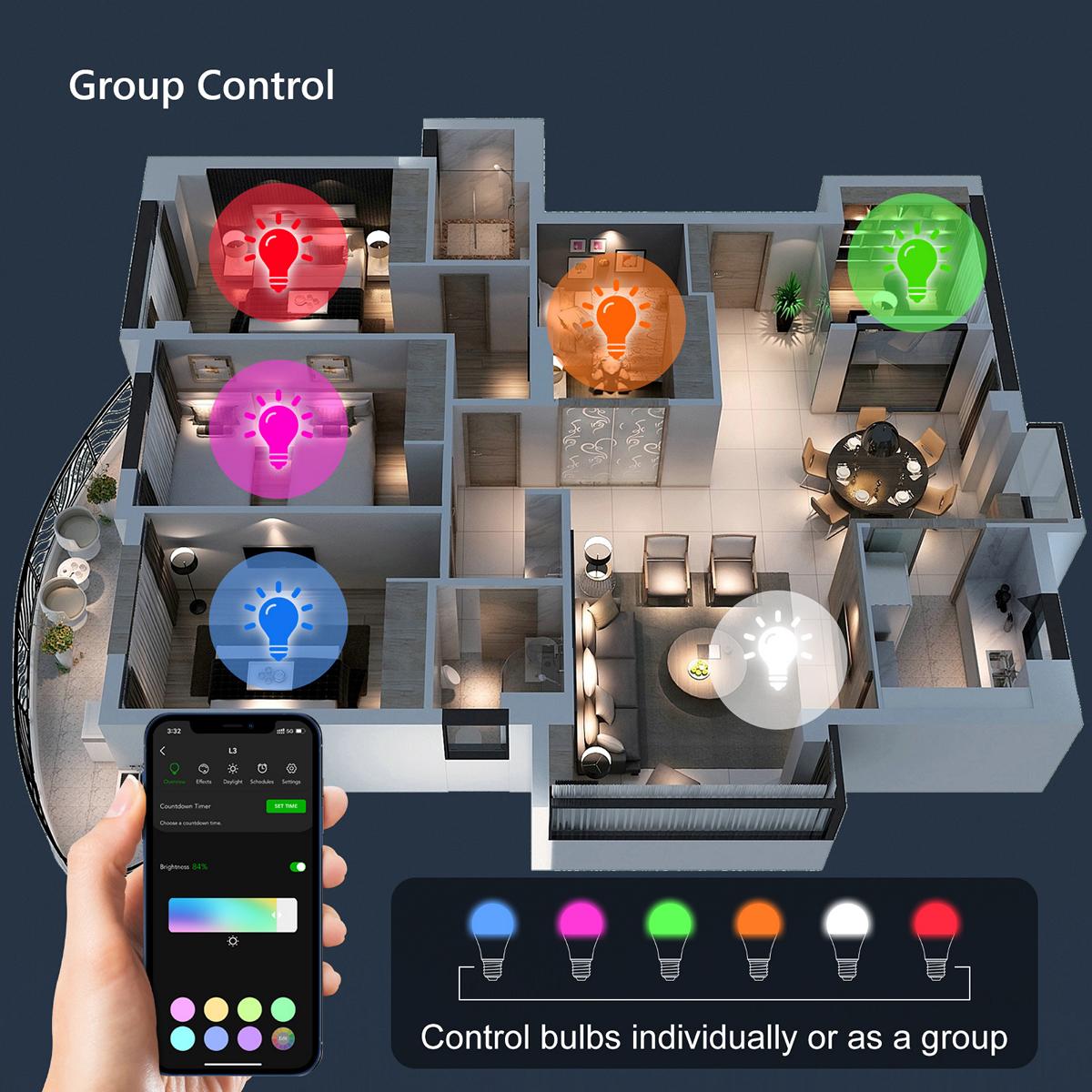 GROUP CONTROL
Easily manage multiple bulbs all at once, ensuring that your home is always perfectly lit to your liking. Full accessibility is at your fingertips, no matter where you are! Say goodbye to complicated and time-consuming light bulb management, and say hello to effortless Group Control!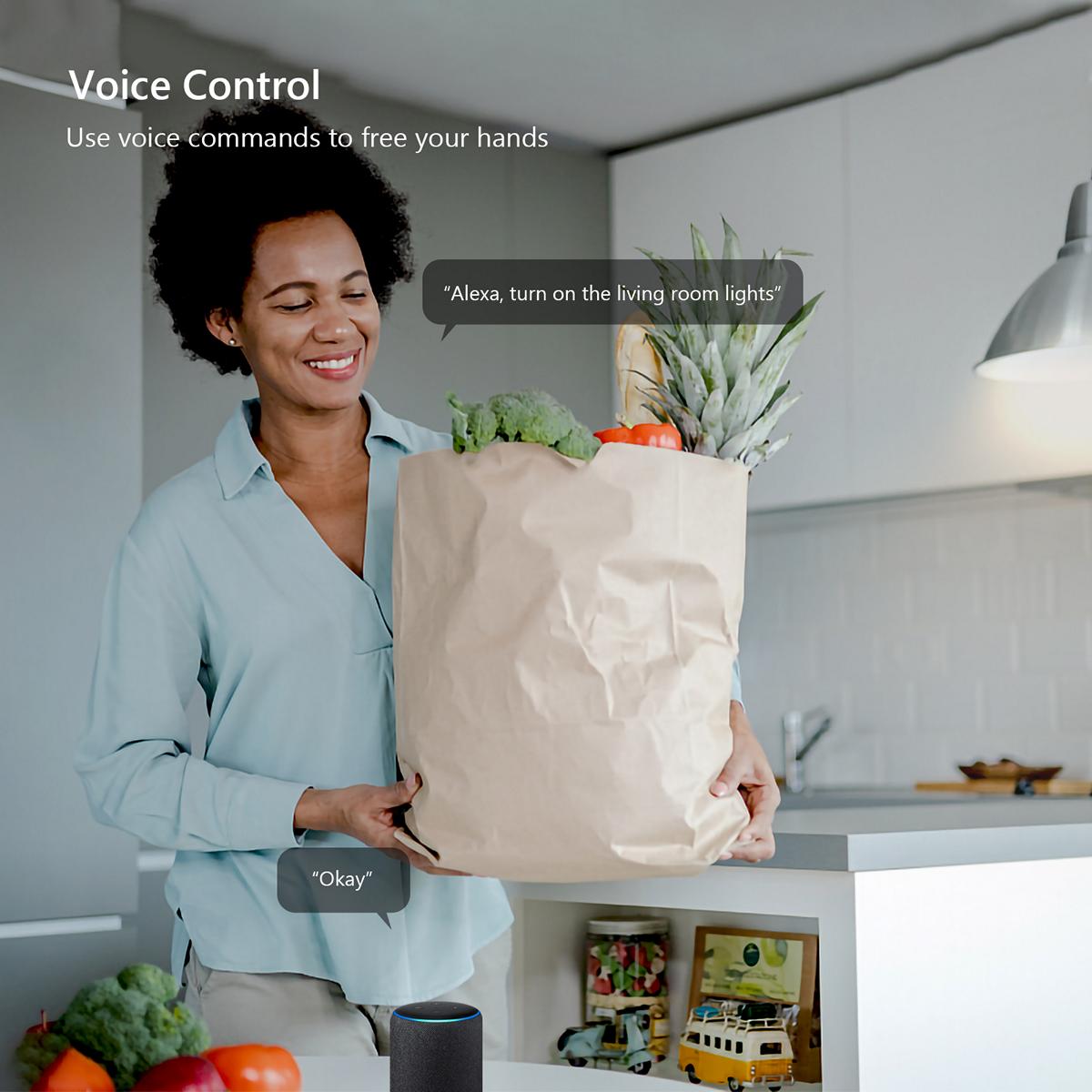 Voice Control
Get hands free with a simple voice commands and make your life easier. Perfect for times when your hands are full or in a dark room.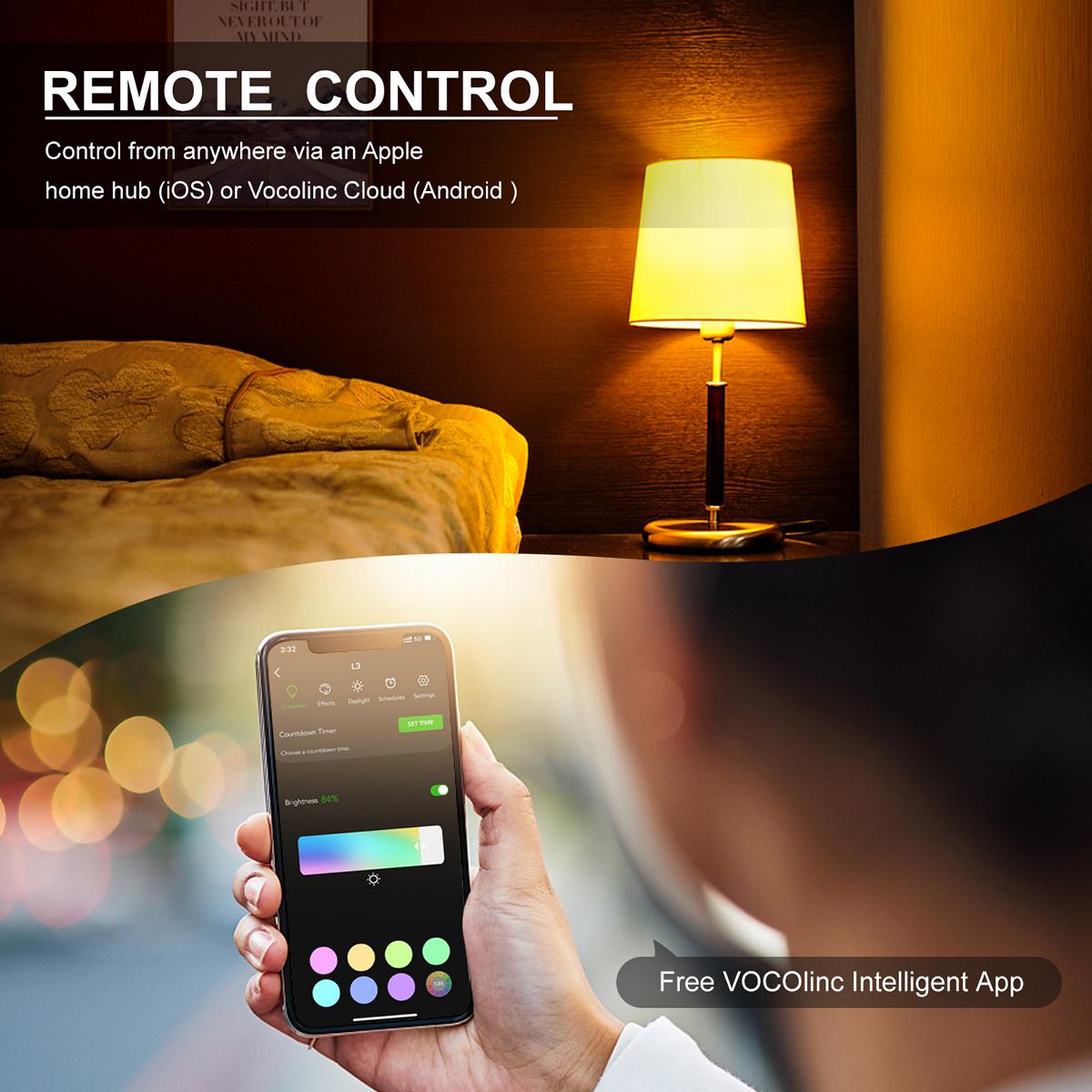 Full Accessibility From Anywhere
Check status, control, set schedules and more from nearly anywhere with internet via an Apple home hub (Apple TV/iPad/HomePod) or the VOCOlinc app.
Lighting Effect & Multi-colors
Personalize your lighting with customer scenes, providing you desired effect with app control to make the ordinary extraordinary.
Create any mood with 16 million colors. Set your desired colors create different ambience for party, dating, relaxing and other occasions via phone App.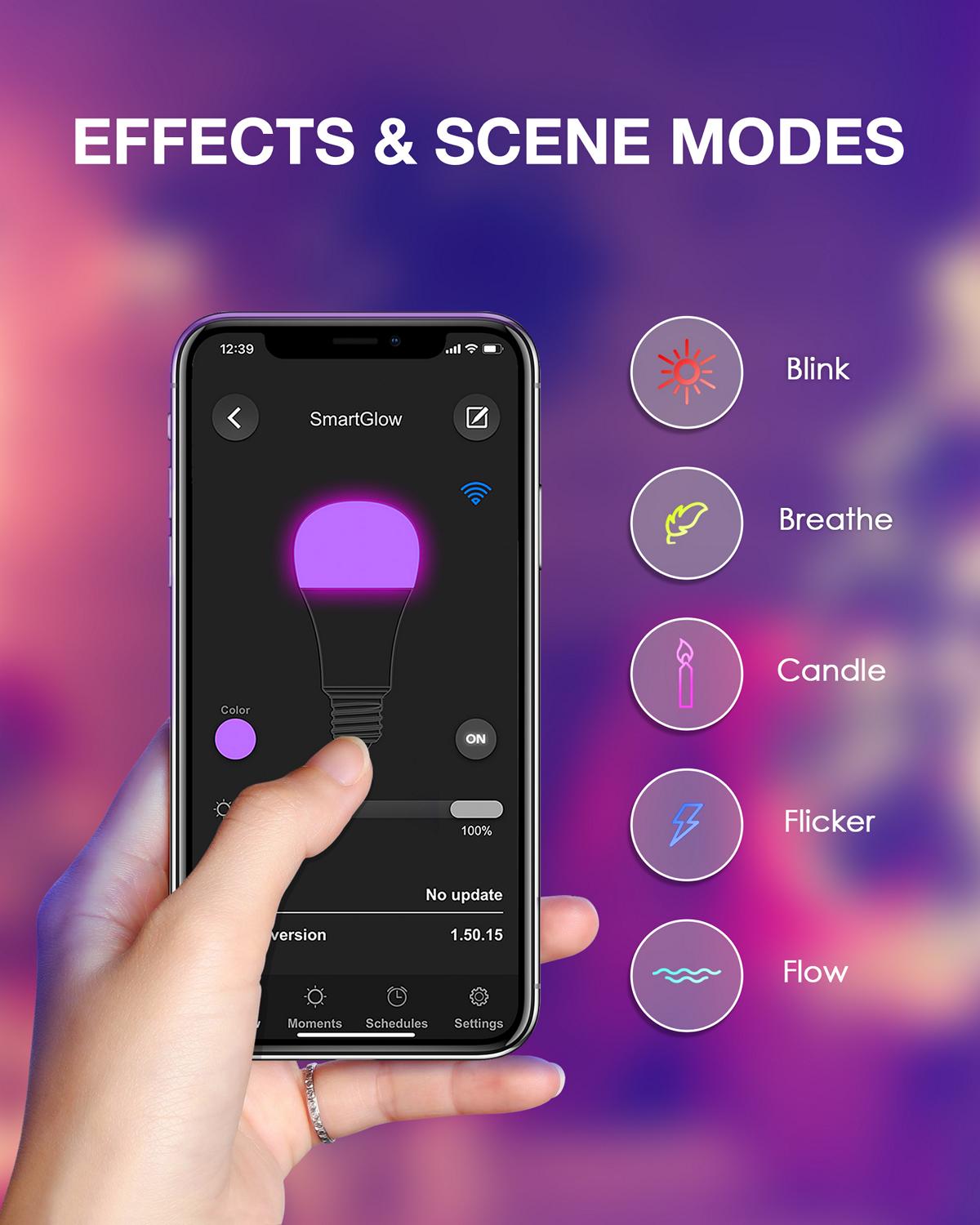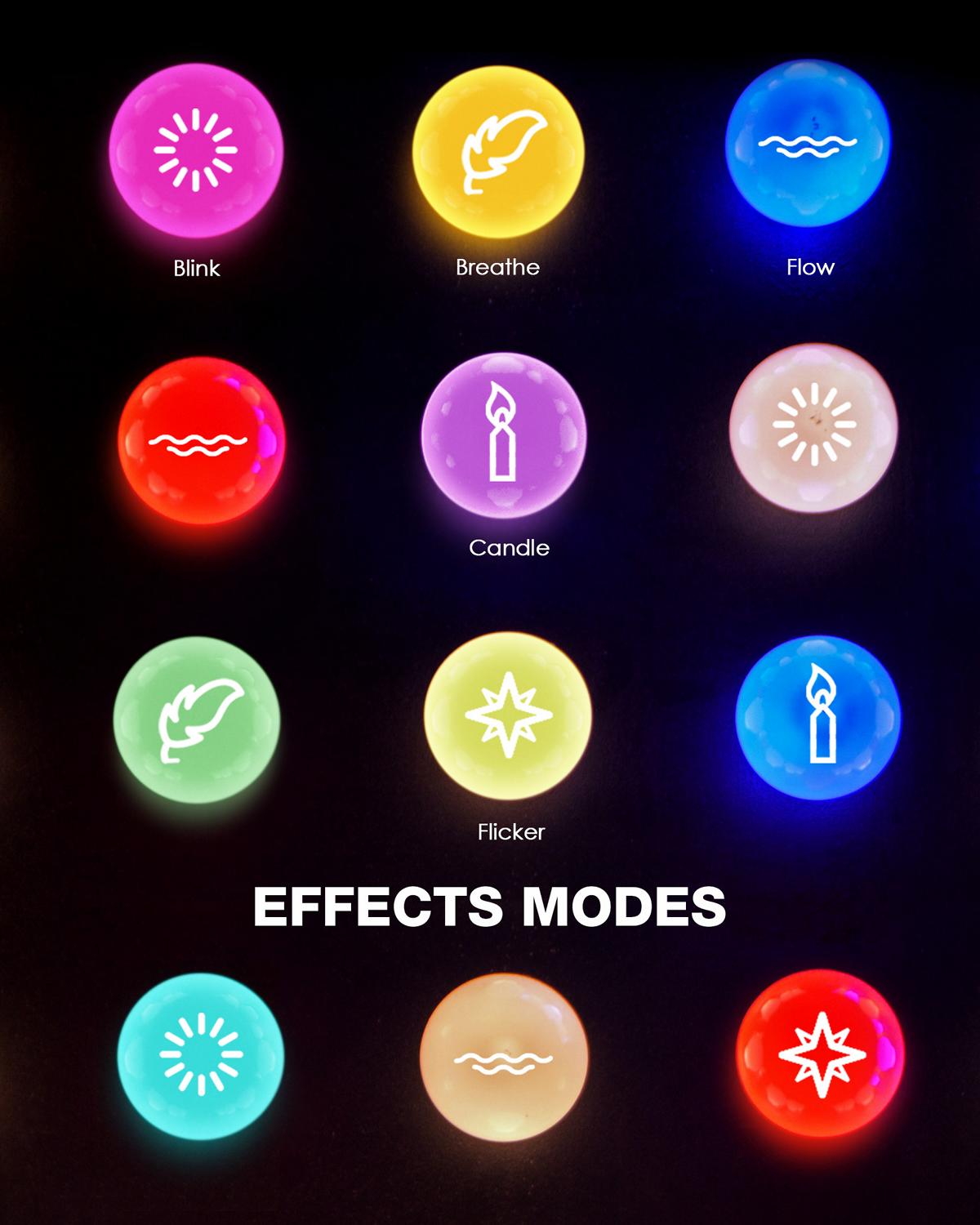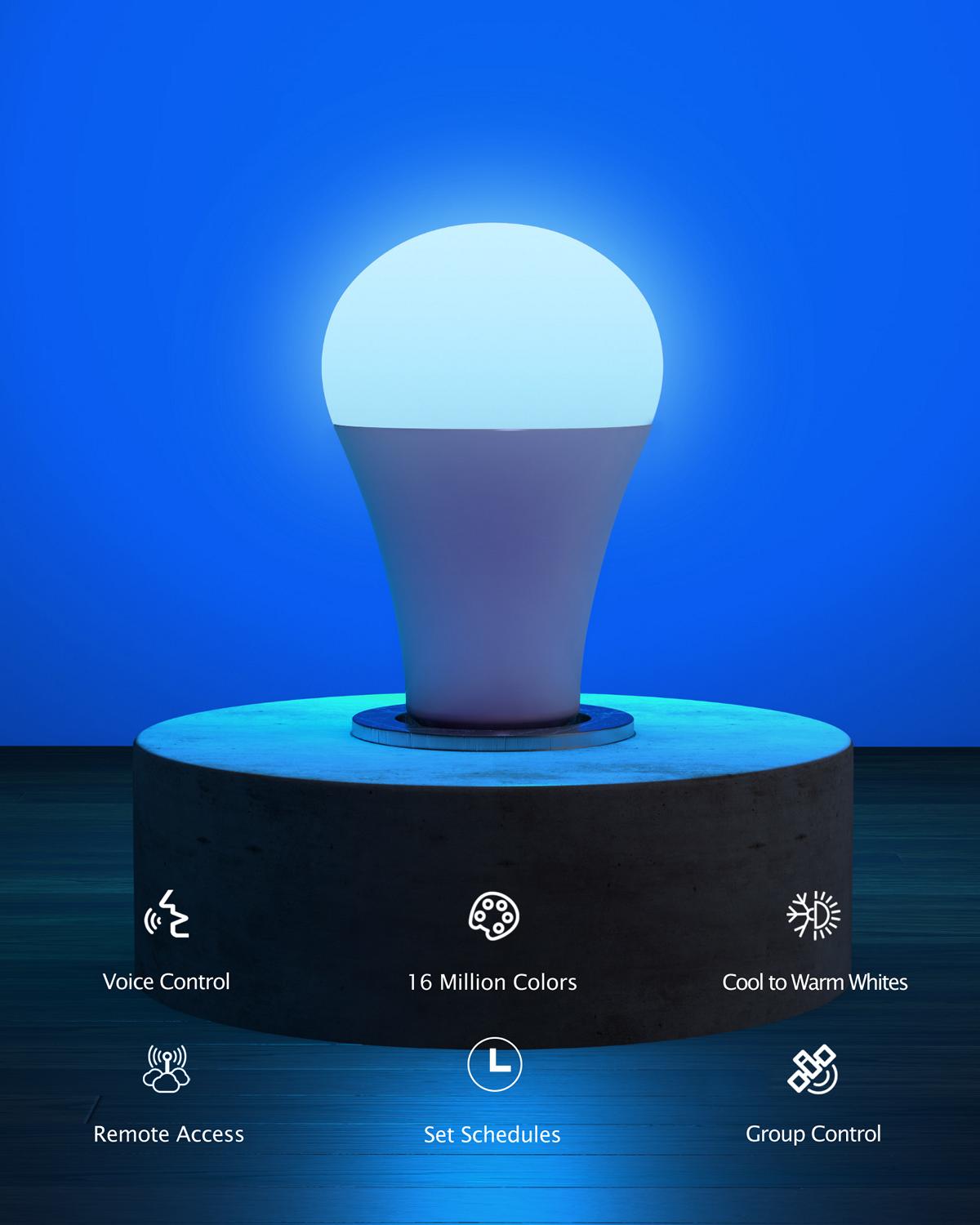 Lite of my life
Above and beyond expectations.
VOCOlinc SmartGlow WiFi RGBW Ambiance LED Light Bulbs – L3-2 Packs
Best Smart Bulb!
This smart bulb works incredibly well. It is unbelievably responsive, and the colors are vibrant.
Note that this was only used with iPhone and Homekit successfully
One thing to beware of with this is if you have a dimmable light and install this it will not work very well. I found that mine would lose connection often and sometimes get stuck.
HOWEVER
If you use this in a standard on off socket, it works exceptionally well!! I have a few of Vocos lights and they all work amazing and this one is no different. We mainly use these for getting into bed because we can shut the lights off without having to get up!
The Linkwise app works very well with this light too and gives some features that are unavailable in the homekit app as of right now such as wakeup mode that will turn the light on gradually in the room to wake you up (I have mine blast on if Im not up by a certain time!)
Overall, this light bulb does exactly what is says it does with a fast and easy pairing process and quick response, I cant imagine buying anything else!!
Great for adding a splash of color to a room
Ive been looking for a HomeKit compatible multicolor WiFi light to add some color to our living room mantel so when I ran across this build I couldnt pass it up.
The colors look amazing and gives our otherwise bland mantel some much needed color. The bulb added to HomeKit with no issues and is fast. My wife and kids love telling Siri via the living room HomePod to change the color. I was pleasantly surprised as to how fast it responds.
The bulb is really bright, I run this one at 50% and its still plenty bright.
There are other HomeKit bulbs out there but youd be hard pressed to find one that works this well and for this price point.
A worthy upgrade from the L1
I have been trying all sorts of different brands of smart lights since I caught the HomeKit bug earlier this year. I have 4 each of both the L1 and L2 bulbs from this company. This L3 is basically the L1's bigger brother. A physically bigger bulb and it puts out more light. In my photos the L3 is on the left and the L1 on the left. Photos don't tell a very good story for brightness comparison, but in person the L3 was brighter. Not crazy brighter, but it was definitely noticeable right away.
This bulb was a snap to setup and lik to HomeKit, much like all the other VOCOlinc devices in my growing collection. There's one little touch that I noticed when comparing it to the L1 that I really like a lot. When I turn either the L1 or the L3 on, they take about a second and ramp up the brightness. Pretty much all the bulbs I have do this, not a big deal. But when you turn them off, the L1 just shuts off instantly, while the L3 takes another second and dims down until it's fully off. Subtle, but pleasant.
I love using these colored bulbs in frosted glass light fixtures from IKEA. The VOCOlinc bulbs give my living room and front windows a splash of color at night. I never would have used the L1's for normal white light to actually light up my room as they are not quite as bright as I prefer, so I keep them on accent lighting duty at night. However, I can definitely see the L3 being a much more multipurpose bulb in my house moving forward.