Voice Control & Remote Control & Touch Control: Work with Google Assistant, Alexa, and Apple HomeKit, allowing control humidifiers through simple voice commands. Support remote control, check status, and control air humidifiers from anywhere via the VOCOlinc app, and you can also adjust mist levels and light colors via two touch control buttons. (Works with 2.4GHz network)
2.5L Humidifiers for Large Room & Auto-target Humidity: Our 2.5L air humidifier offers up to 30 hours of humidifying in a 430 sq ft space. Auto-target humidity mode helps you keep the humidity in your room at optimal levels, which can make the air feel balanced and improve breathing and sleep, as well as nasal congestion & dry skin.
16 Million Colors & Stepless Dimming Function: The baby humidifier provides 16 million colors for you to choose from. You could choose a favorite color to create the perfect ambiance for your daily routines. It features a stepless dimming function, enabling you to adjust the brightness of the humidifier from 0% to 100%.
5 Mist Levels & Auto Shut-off & Timer: 5 adjustable mist levels make humidification much more precise and effortless to adjust mist output. The humidifier will automatically shut off when running out of water and notify you immediately via your smartphone and its beeping sound. A built-in timer lets you set a timer to turn off the humidifier.
Top-fill & Essential Oil Diffuser Design: The all-new top-fill design does cleaning and filling a breeze. Simply open the lid and pour water straight from the top. You could instantly improve the air you breathe by adding a few drops of your favorite water-soluble essential oil to the water tank. (Noted: Only use water-soluble essential oils)
Shipping:
The product will ship 1-3 business days after purchase, and delivery will take 4-7 business days. All orders will be dispatched from our US or Canada warehouse.

Refund:

30-Day Refund Policy

For any reason, undamaged products can be fully refunded within 30 days after the delivery date to the shipping address. Once the item is returned to Vocolinc's warehouse for inspection, the refund process will begin.

Please go to the footer menu to view the shipping policy and return policy.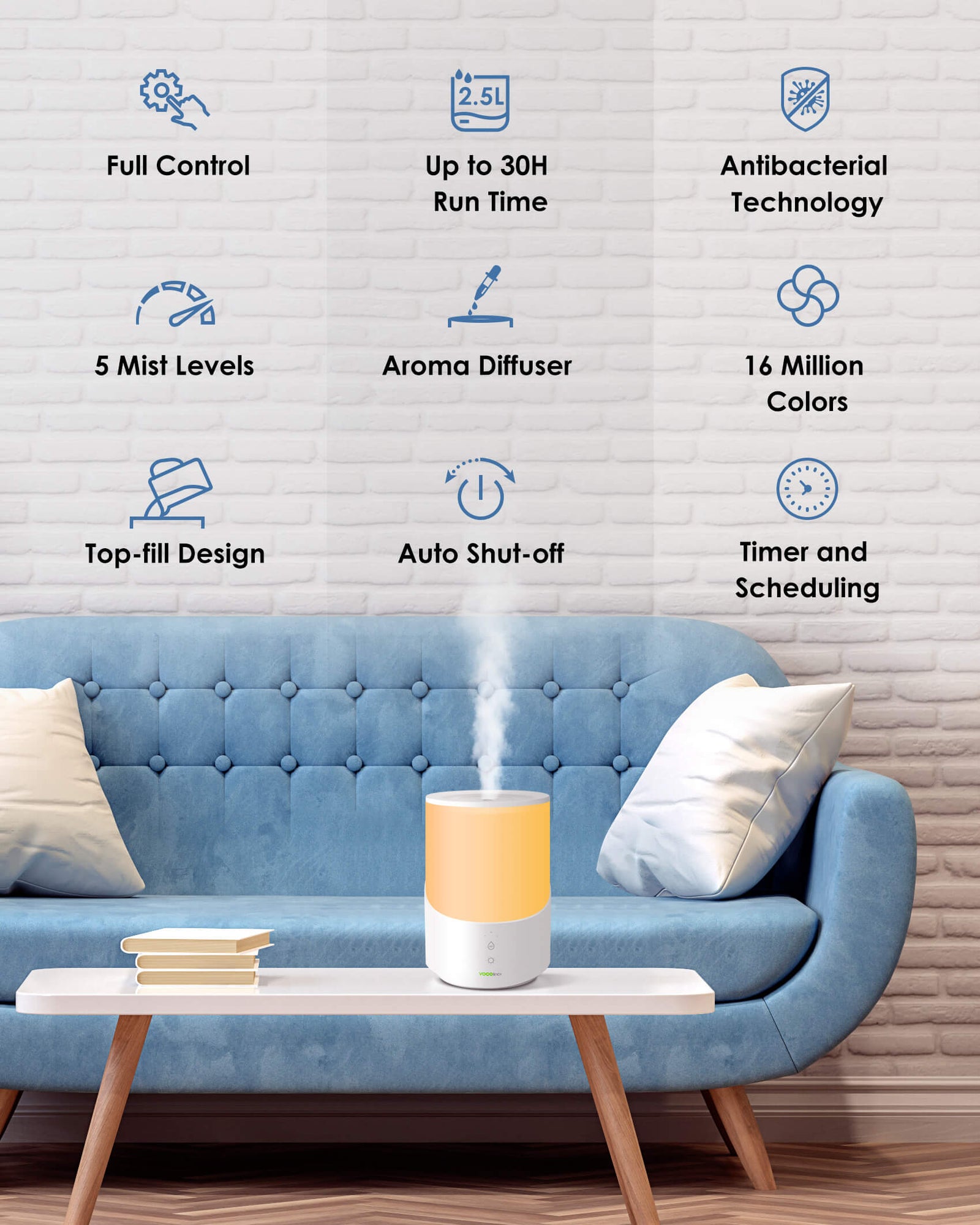 Explore the VOCOLinc MistFlow Smart Humidifier
SMART & VOICE CONTROL >Voice/phone control with Alexa, Siri, or Google Assistant.
HEALTHY & COMFORT >Auto-target Humidity mode helps you keep the humidity in your room at optimal levels.
WIDE RANGE&LONG TIME >2.5L water tank with an anti-bacterial layer.
DIMMABLE & MULTICOLOR LIGHT >Rainbow-spectrum mood light with customizable colors and light effects.
EASY TO USE > The all-new top-fill design makes cleaning and filling a breeze.
JUST RELAX > Add a few drops of your favorite water-soluble essential oil to the water tank.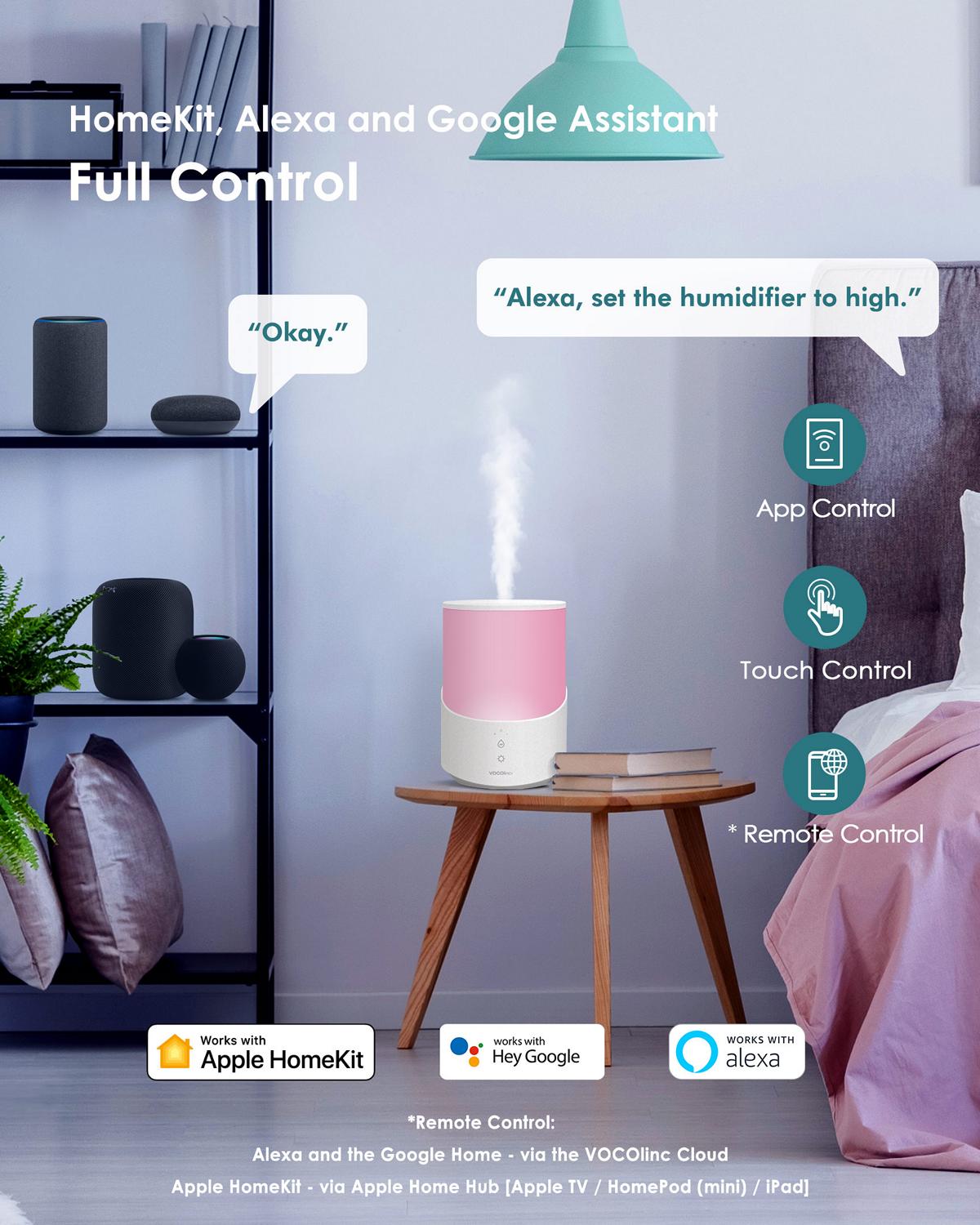 Smarter Control Via the VOCOlinc APP
Using the VOCOlinc app, you get even greater control over the MistFlow, with 5 levels of mist control, special color effects for the Mood Light, and much more, including scheduling, countdown timer and remote access that allows you to control the MistFlow from anywhere in the world.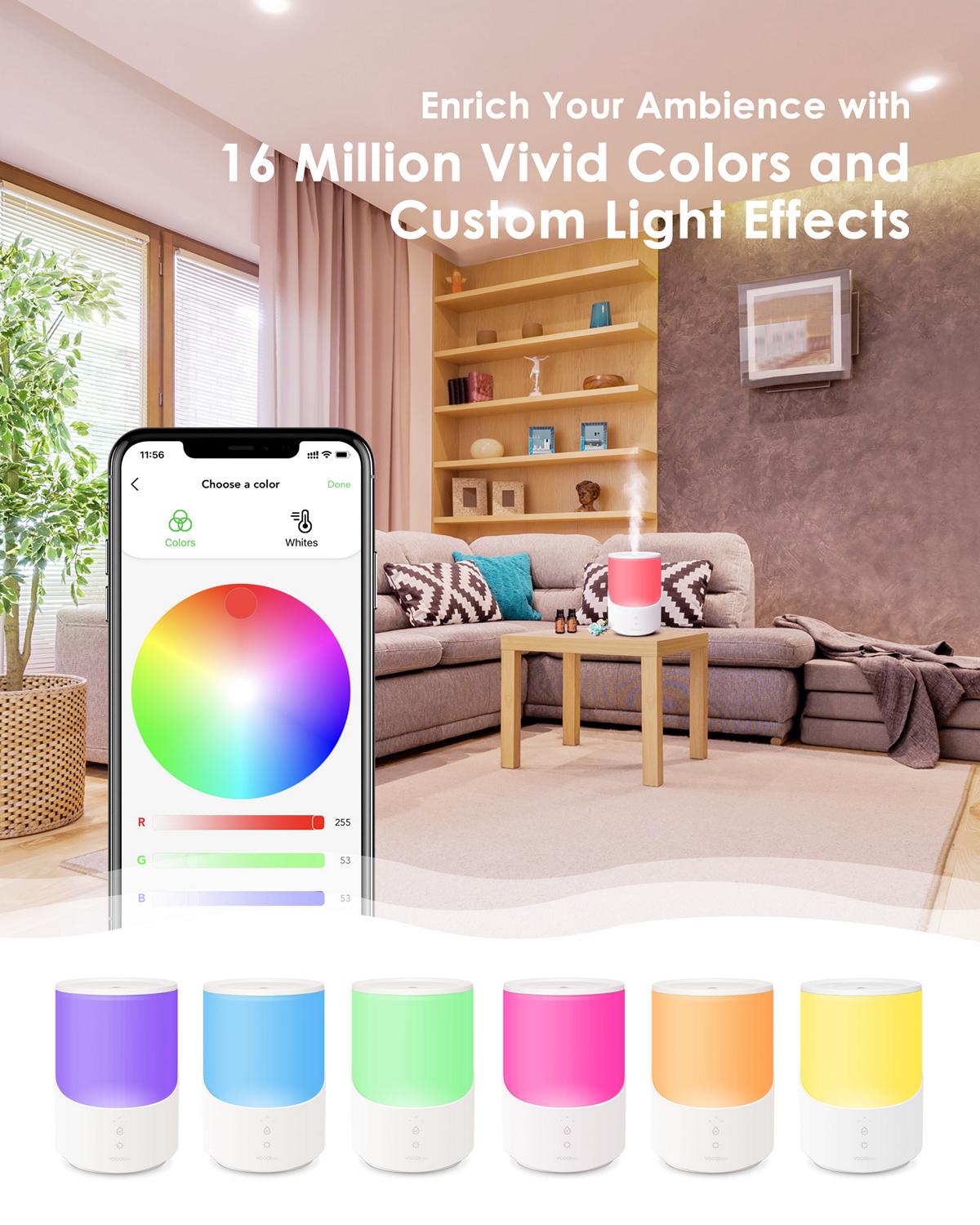 Rainbow Spectrum Mood Light
Choose from 16 million colors and apply your favourite light effects to create the perfect ambience to your daily routines, or relax on the couch, set it to purple, to enjoy 'Movie Time' with your loved ones.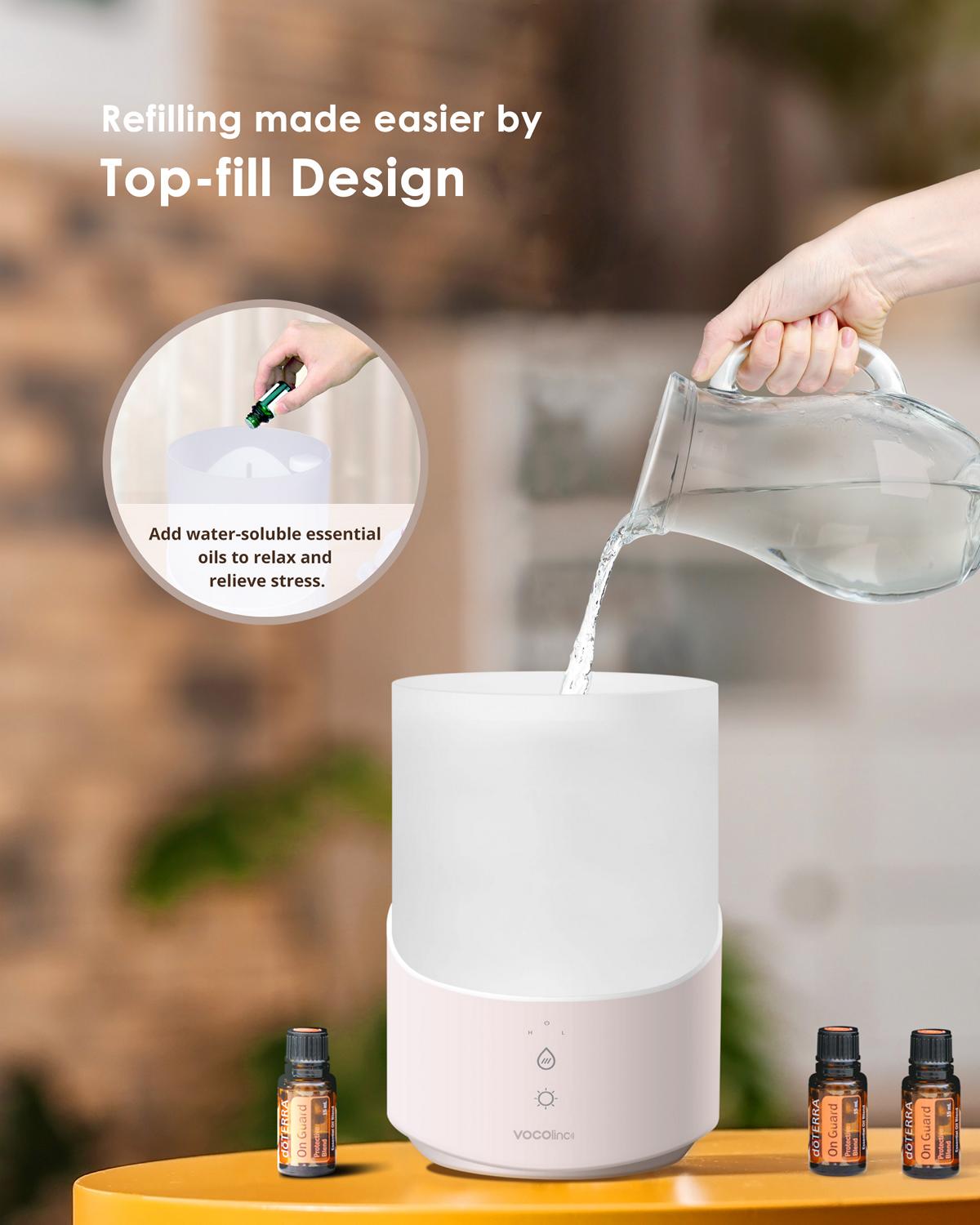 Essential Oil Diffuser
While the MistFlow is designed as a humidifier, it can also double up as an aroma diffuser, so by simply adding water-soluble essential oils to the tank makes your home smell nice too.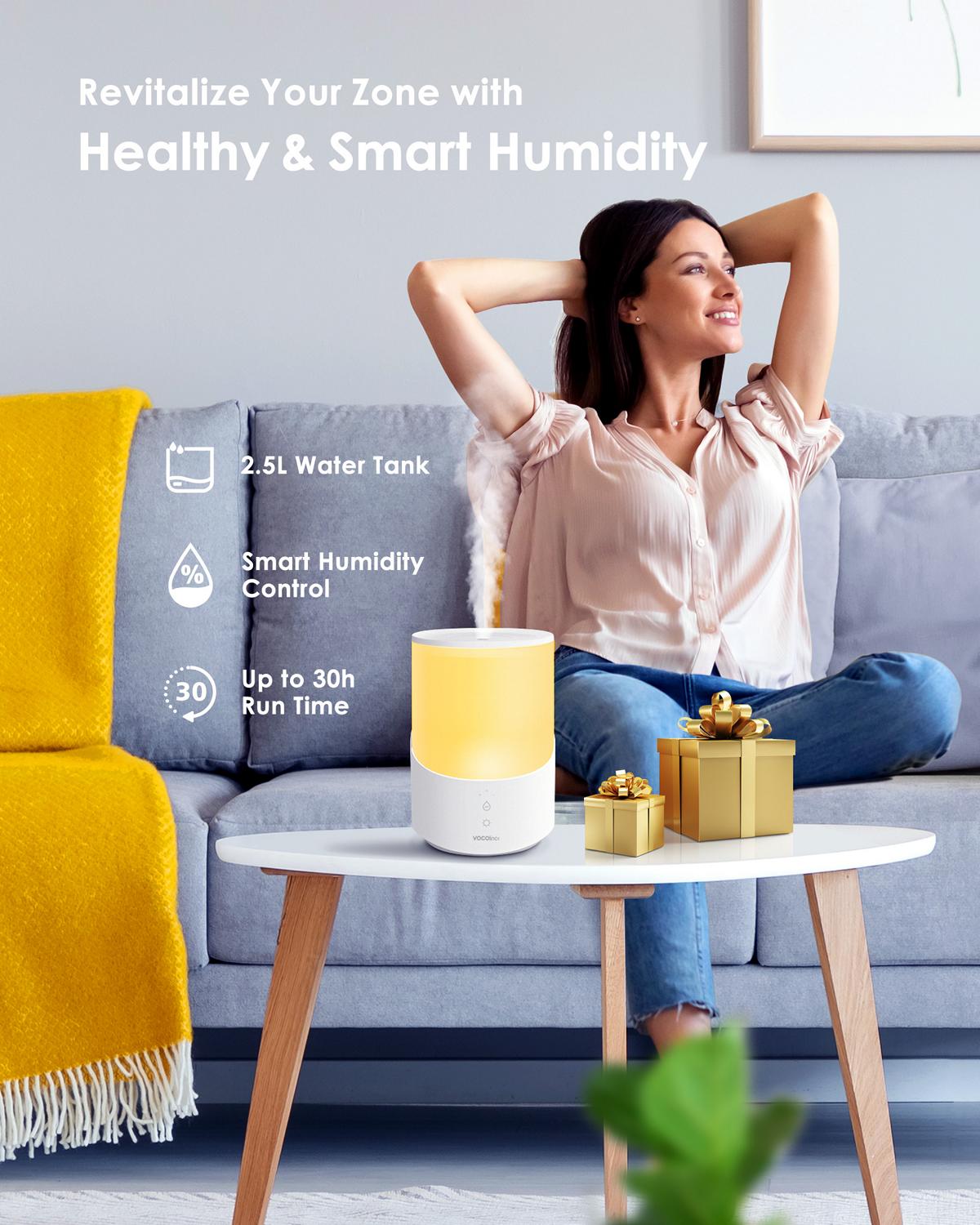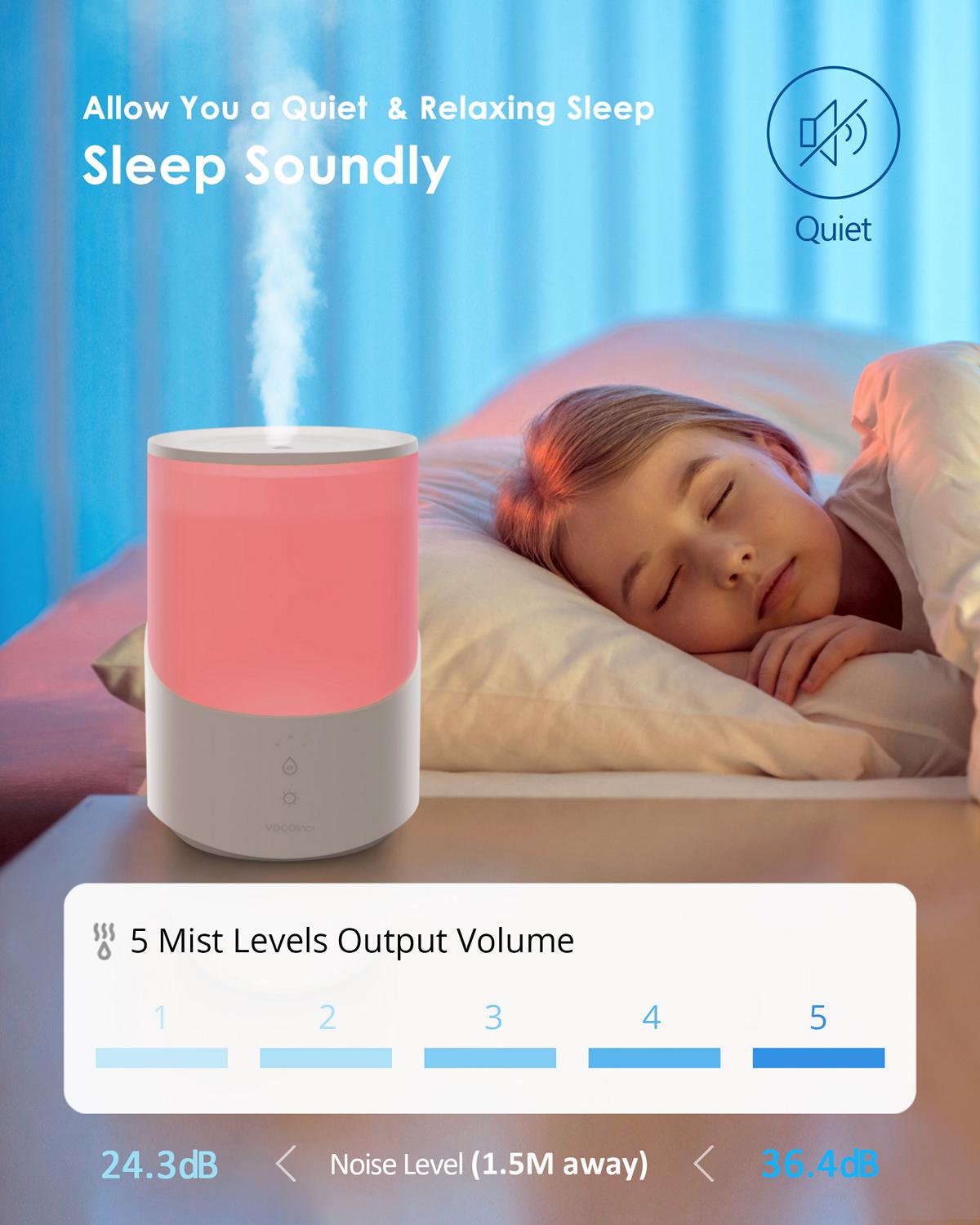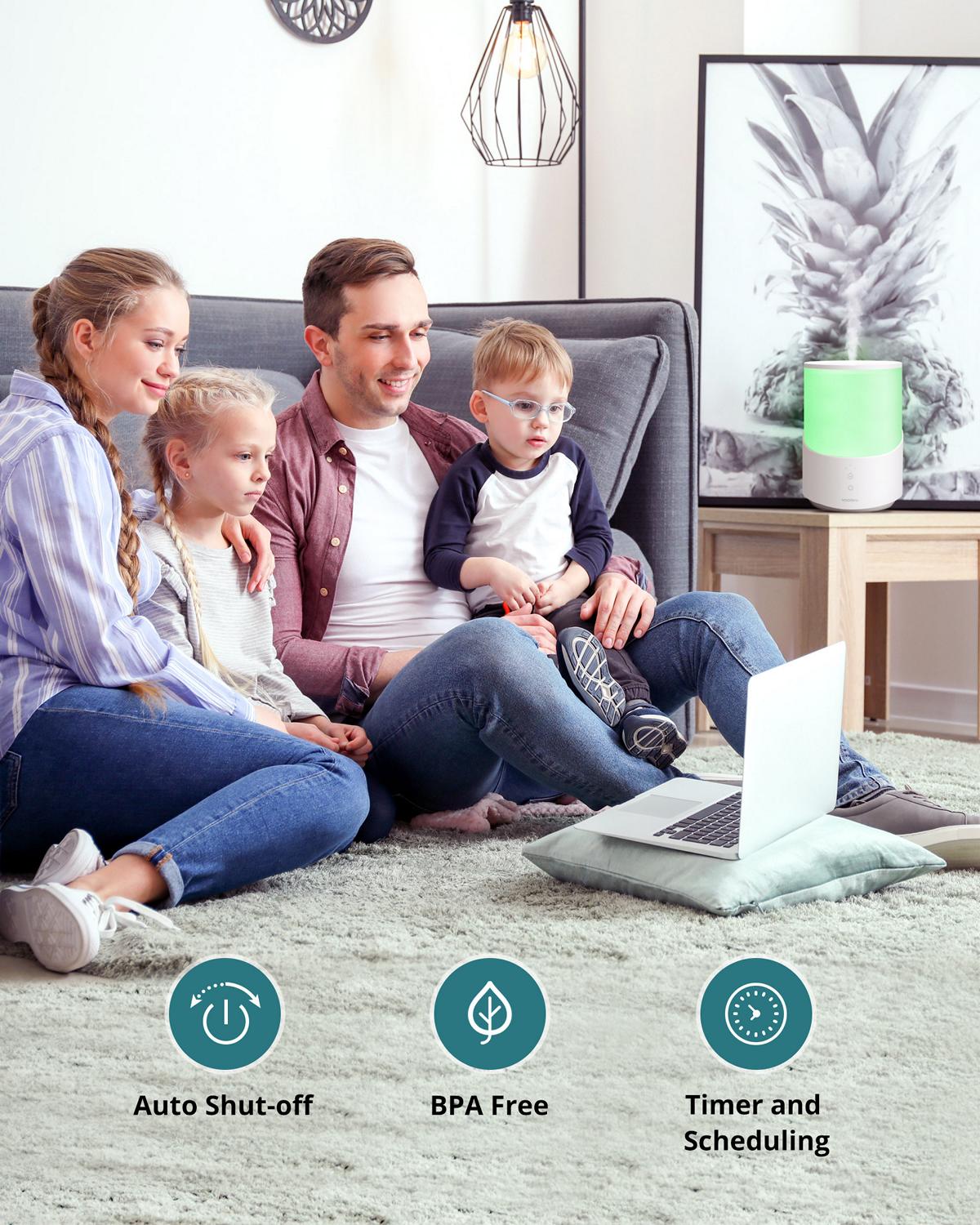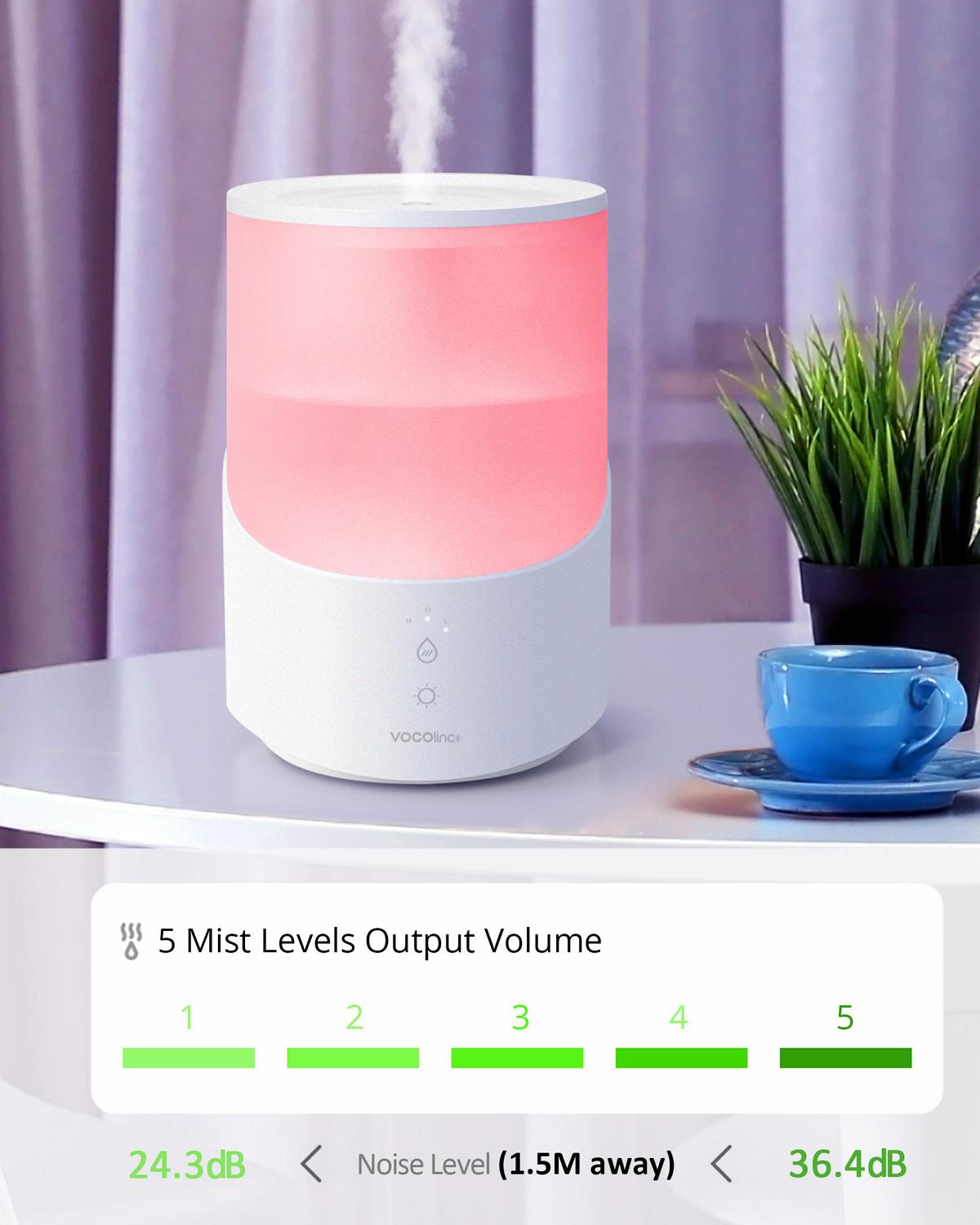 VOCOlinc Cool Mist Humidifiers
this VOCOlinc Cool Mist Humidifiers works fine easy to connect to wifi. and the right price point
Much Better Than Expected
Bought Humidifier on sale. Wasn't expecting much for the price paid. They could have charged me double and I would still be happy with my purchase. Quality and ease of use get surpassed my expectations. Connected to my WiFi on first try and it work as fast as my way more expensive HUE lights! Highly Recommended!!!
Dear customer, your trust is the greatest gratification for VOCOlinc. With your support, we will do better!
Love it!! If youre having connection problems, the issue is probably your router
Ive been buying VOCOlinc products for years and I love them. I have the Flowerbud diffuser, light bulbs, outlets, cameras The quality of the products has also gone way up. I was really surprised with how good this aroma diffuser looks and feels. The plastic feels firm, the led lights are solid, touch panel is great. The connection works without issues. Superb. Thank you VOCOlinc!
Pleased with the smart humidifier!
After using it for several days,I like the humidifier very much. Works great with a modern look and is easy to use. Voice control bring convenience,and can change the mist level as desired. Easy to fill and clean humidifier from top side.
Overall its a nice humidifier for me.
Very smart Humidifiers!!!!
This is the best product I have ever used! It has almost no sound when it is running, and compared to other products I have used before, it is very top-notch in this regard! It's also very smart, has a dedicated app for operation, and has a rainbow-spectrum mood light. All in all, I really like this product