【Dynamic RGBIC Technology】Experience the future of lighting with VOCOlinc's smart neon light strip. Our innovative RGBIC technology allows you to display multiple colors on bendable neon lights through the app. Create stunning effects and switch themed lights for any occasion.
【Smart Voice Control & APP Remote Control】Take control of your lights with ease. NL2201 works seamlessly with Apple HomeKit, Alexa, and Google Assistant. Use voice commands or the app to control your smart neon light strip from anywhere. (Note: Requires 2.4GHz network, not compatible with 5G).
【Music Sync Mode】Let the rhythm move you. NL2201 feature a built-in microphone that syncs with music and game audio, creating a captivating light show. Choose from 4 music modes and enjoy an immersive entertainment experience.
【APP Control & 16 Million Colors】Unlock endless possibilities with VOCOlinc. Our app offers 16 million DIY colors, stepless dimming, adjustable color temperature (2200-7000K), and a range of advanced features like group control, scene modes, timers, and schedules.
【DIY Entertainment & Gift Ideas】Unleash your creativity and personalize any space with our smart neon light. Its unique design adds a touch of fun to bedrooms, game rooms, living rooms, and walls. It's also a perfect gift for birthdays, holidays, and special occasions.
【Easy Installation & Customer Service】Setting up is a breeze. The neon light strip comes with 10 clips and screws for easy installation. It's IP67 waterproof, making it suitable for outdoor use as well. And if you need any assistance, our 24-hour email support is here to help.
Shipping:
The product will ship 1-3 business days after purchase, and delivery will take 4-7 business days. All orders will be dispatched from our US or Canada warehouse.

Refund:

30-Day Refund Policy

For any reason, undamaged products can be fully refunded within 30 days after the delivery date to the shipping address. Once the item is returned to Vocolinc's warehouse for inspection, the refund process will begin.

Please go to the footer menu to view the shipping policy and return policy.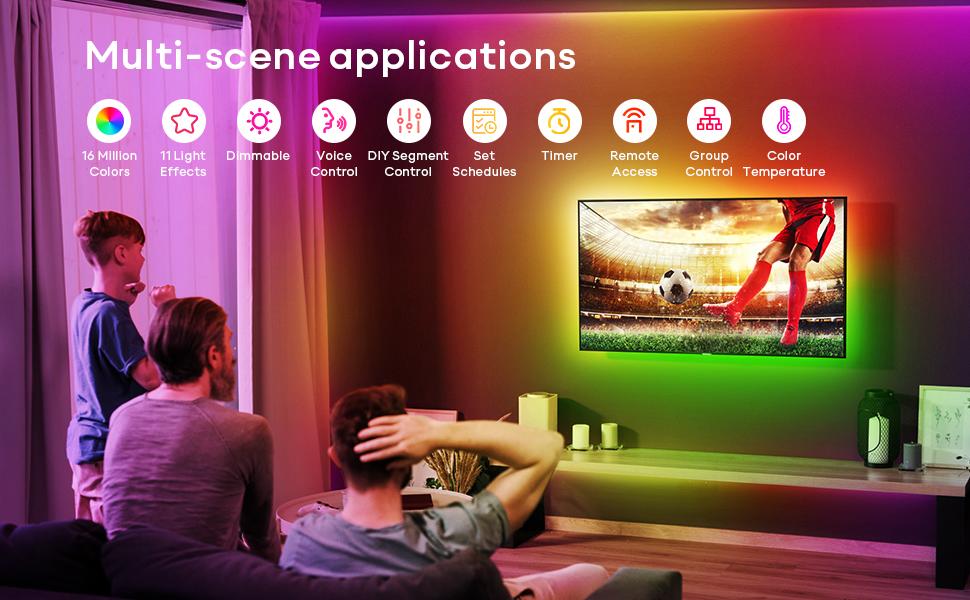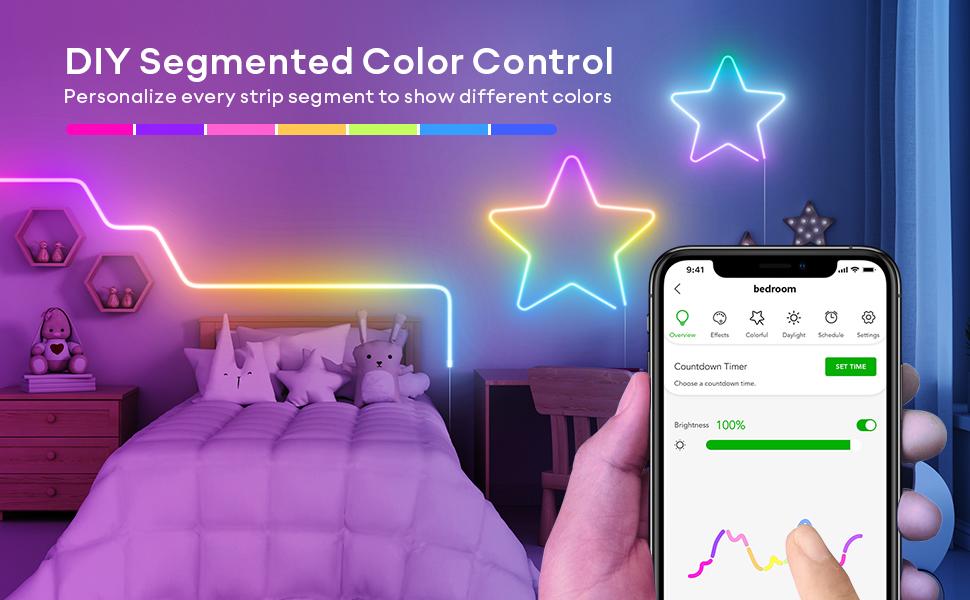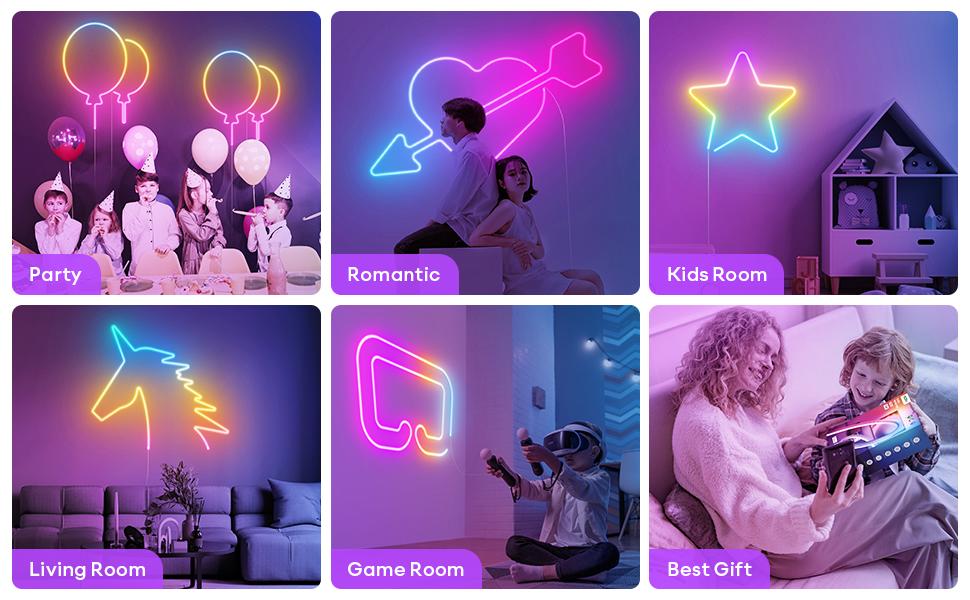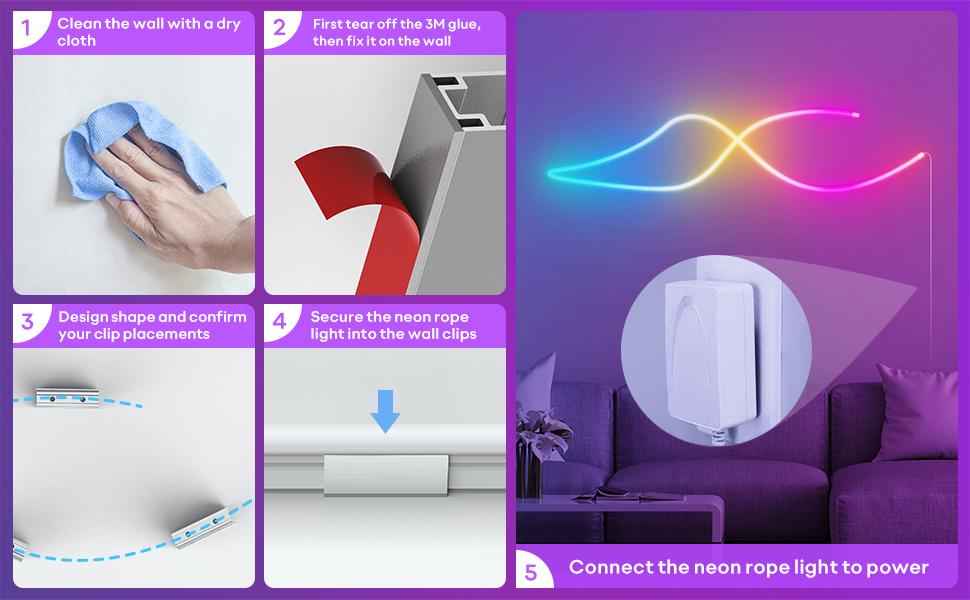 System Requirements
Before pairing, ensure you iOS/Android device is in the latest version and your Wi-Fi router is 2.4 GHz capable (5 GHz is not supported).
Adding Instructions
2. Open VOCOlinc, tap the "+" icon in the top right corner to enter the "Add Accessory" page
(For Android devices, tap "Model").
3. Tap "Lighting" and select "NL2201". Read the onscreen notes and confirm to the next step.
4. For iOS devices, scan the following QR code or the QR code on the control box to search for and
add the accessory, while Android devices will automatically search for the accessory and finish adding.
Note: If you fail to add, read the "Tips" and follow the instructions. You can also tap "Help" or "Contact VOCOlinc" for further questions or go to "User" page and tap "FAQ" or "Contact customer service".
1. Download Amazon Alexa app from the App Store (iOS) or Google Play (Android). Register and log in your account.
2. Open VOCOlinc app. Tap "user" and "3rd party connection", select "Link to Amazon Alexa".
3. Tap "LOGIN WITH AMAZON". Tap "Link" in Amazon Alexa app. If "Status - Account Linking
Succeeded" pops up in VOCOlinc app, then the VOCOlinc Skill is linked to Amazon Alexa.
4. Open Amazon Alexa, tap "More" to enter "DISCOVER ALEXA" page to check "Your Skills". Tap
"VOCOlinc" to check your devices added and wait for devices syncing to Amazon Alexa.
5. Now you can speak to Amazon Alexa to control your devices remotely
1. Download Google Home app from the App Store (iOS) or Google Play (Android). Register and log in your account.
2. Open VOCOlinc app. Tap "user" and "3rd party connection", select "Link to Google Home".
3. Tap "GO TO LINK" to open Google Home app and tap the "+" on the top left corner to enter "Add and manage" page.
4. Tap "Set up device" and select "Works with Google".
5. Search for "VOCOlinc" and sign in your account. If "VOCOlinc is linked" pops up, then the VOCOlinc is linked to Google Home.
6. After all devices added to VOCOlinc are synced to Google Home, you can enjoy the hands-free control.
1.Do not install or operate this light with wet hands or standing on damp surfaces.
2.Do not put this light near potentially dangerous sources, such as candles and liquid-filling objects.
3.This light is not compatible with other dimmers and its brightness can only be adjusted via the app within the environment temperature between 0°C and 40°C (32°F and 104°F).
4.Only the rope light itself is waterproof. Keep the control box and power adapter from splashes, water drops, or every high-humidity environments.
5.Do not clean this light with water. If water enters the light, it may cause failure or electric shock.
6.The light, the power adapter, and the control box must be used together as a full set.
7.Do not risk your safety by dissembling or repair the light by yourself. Contact customer service.
8.This light is not for emergency lighting. Household use only
Before installing, choose a smooth and flat surface.
1. Wipe the installation surface ensure it is dry and clean.
2. Select a suitable position for each mounting bracket (included in the accessory kit).
3. Remove the adhesive film on the back of the bracket, and stick it firmly onto the surface position.
It is recommended to leave the bracket on the installation surface about 1 hour before installing the rope light.
4. Unroll the rope light and clip it into each bracket.
5. Connect the power adapter with the control box, and plug the adapter into a power outlet.
Now you can enjoy your rope light.
Guter LED-Stripe
Einrichtung per Apple HomeKit super einfach, aktualisieren geht ber Hersteller App.
L?sst sich super ins Home einbinden und macht was es soll.
Untersttzt auch Apples adaptives Licht
Great HomeKit light strip
This ended up being exactly what I was looking for. It has a great color accuracy, is bright, and sets up flawlessly with HomeKit. I didnt even touch the native app. Seems to be a good value as well. Ill definitely be ordering more of these!
Love
Love these lights, beautiful colors, easy to set up and use, good adhesive.
With better mounting this product would be a homerun!
I ordered this product to add some backlighting to my tv. I liked this better than most led strip as this looks like a solid light rather than multiple dots and the app has several cool lighting features; however, the mounting tape isn't strong enough to hold the brackets and lights up. Other than that, love this product.
Amazingly simple to integrate with HomeKit
Using these on a shelf system attached to the bottom of the top shelf, routed down to the next shelf, and then pulled across. Each space is a work area and the light is more than substantial. Used all the include adhesive / screwed-in clips and after a few days, they appear to be holding up, even when hanging the light vertically.
Integration with my existing HomeKit system was extremely easy and now I have this light triggered by a motion sensor. Really impressed with the cost and quality of this light. May add more to other applications throughout my house.