Highly efficient in large environments> PureFlow removes up to 99.97% of particles down to 0.3 microns. With a Clean Air Delivery Rate (CADR) of 500 m³ / h , it purifies 60㎡/645ft² rooms every 20 minutes.
True Class 13 HEPA filter technology> The 3-stage combined filter system consists of a prefilter, an improved HEPA filter, and a honeycomb-activated carbon filter that effectively captures and eliminates impurities. With alerts in the app / on display, you know when the filter needs to be replaced (filter life up to 12 months with 6-7 hours of daily use). Replacement filters are available in a short time.
Very smart> As soon as it connects to the Wi-Fi network, PureFlow is ready to use immediately. Please turn on and off Siri (Apple HomeKit), Alexa, or Google by voice control the PureFlow, increase or decrease the performance or control the air quality (PM2.5), temperature, and humidity in real-time. Use the VOCOLinc app to view air quality, temperature and humidity reports in real time
Highly transparent> With the large 5.1-inch LED display, you can easily recognize every value and every notification of PureFlow, even from a certain distance. The LED strip directly below the display uses different colors to show the room's air quality. Excellent (green); good (light green); oc (yellow); low (orange); bad (red)
Comprehensive all-day protection> Dual vent design captures harmful gases and particles from all angles and carries clean air through the top vent. With industry-leading noise isolation technology, the PureFlow keeps the noise level in sleep mode at just 30dB. This quiet operation offers high-quality sleep with clean air. So PureFlow protects day and night from harmful substances.
Shipping:
The product will ship 1-3 business days after purchase, and delivery will take 4-7 business days. All orders will be dispatched from our US or Canada warehouse.

Refund:

30-Day Refund Policy

For any reason, undamaged products can be fully refunded within 30 days after the delivery date to the shipping address. Once the item is returned to Vocolinc's warehouse for inspection, the refund process will begin.

Please go to the footer menu to view the shipping policy and return policy.
Keep Your Health in Check
Air pollution is ubiquitous and breaks through our body's defenses, penetrating our respiratory and circulatory systems and damaging our health.
VOCOlinc smart air purifiers give you peace of mind. The all-in-one filter set combines a 3-stage filtration system to remove up to 99.97% of particles as small as 0.3 microns. Improve the air quality in your home and give you a healthy and clean breathing environment.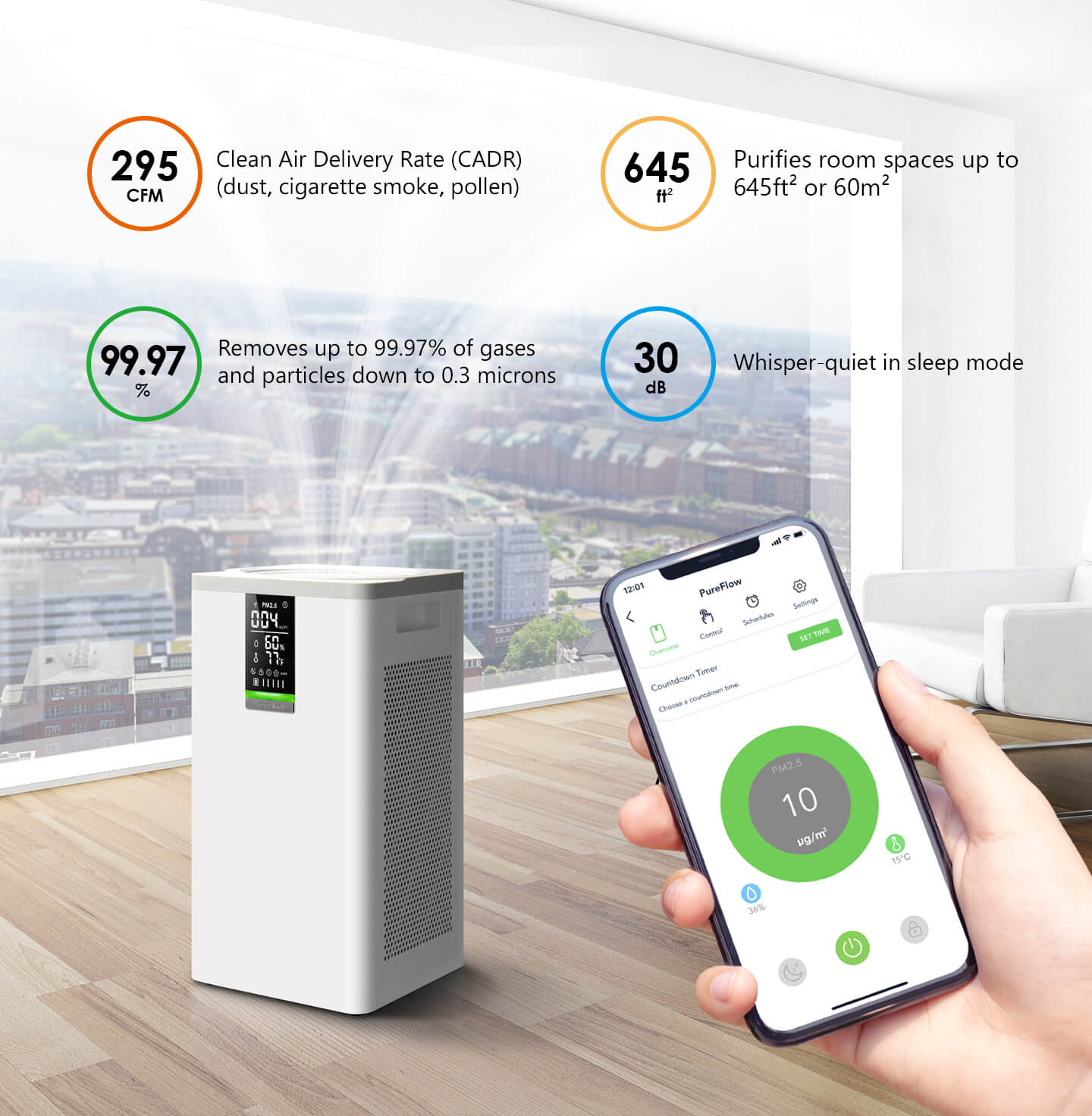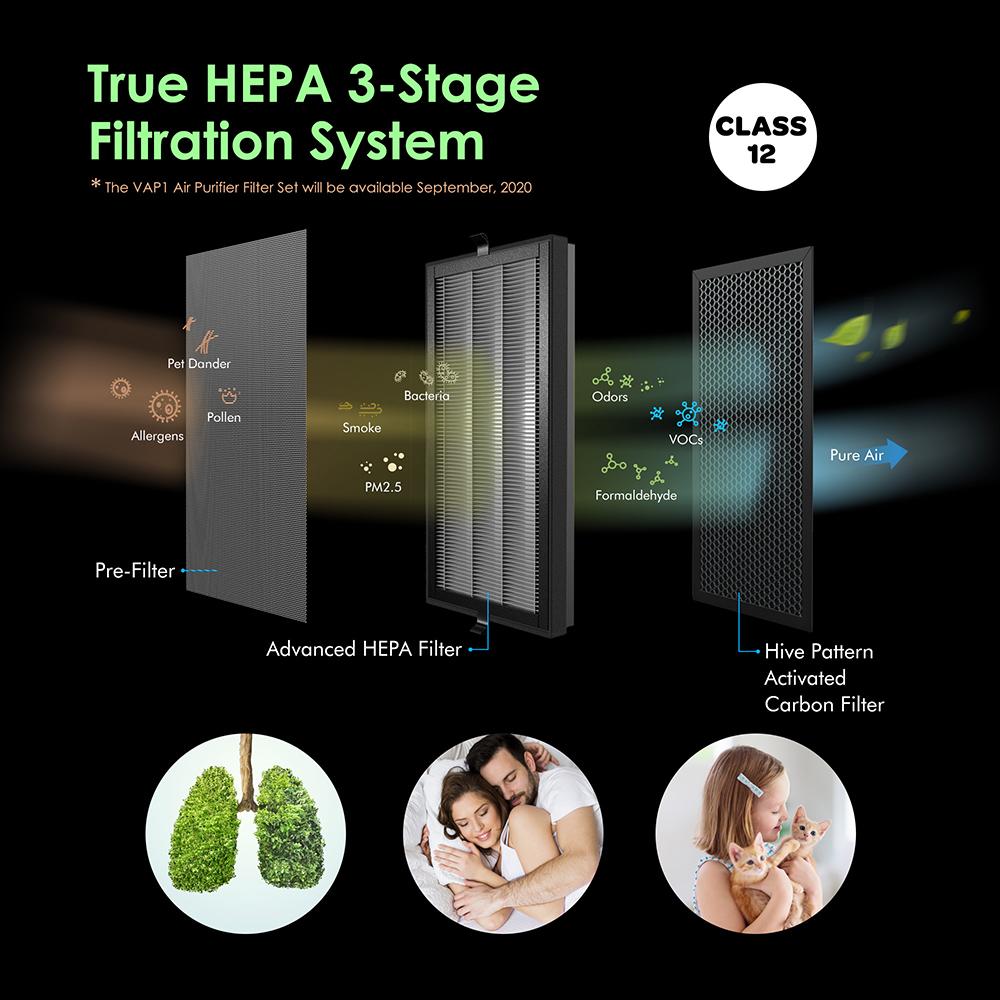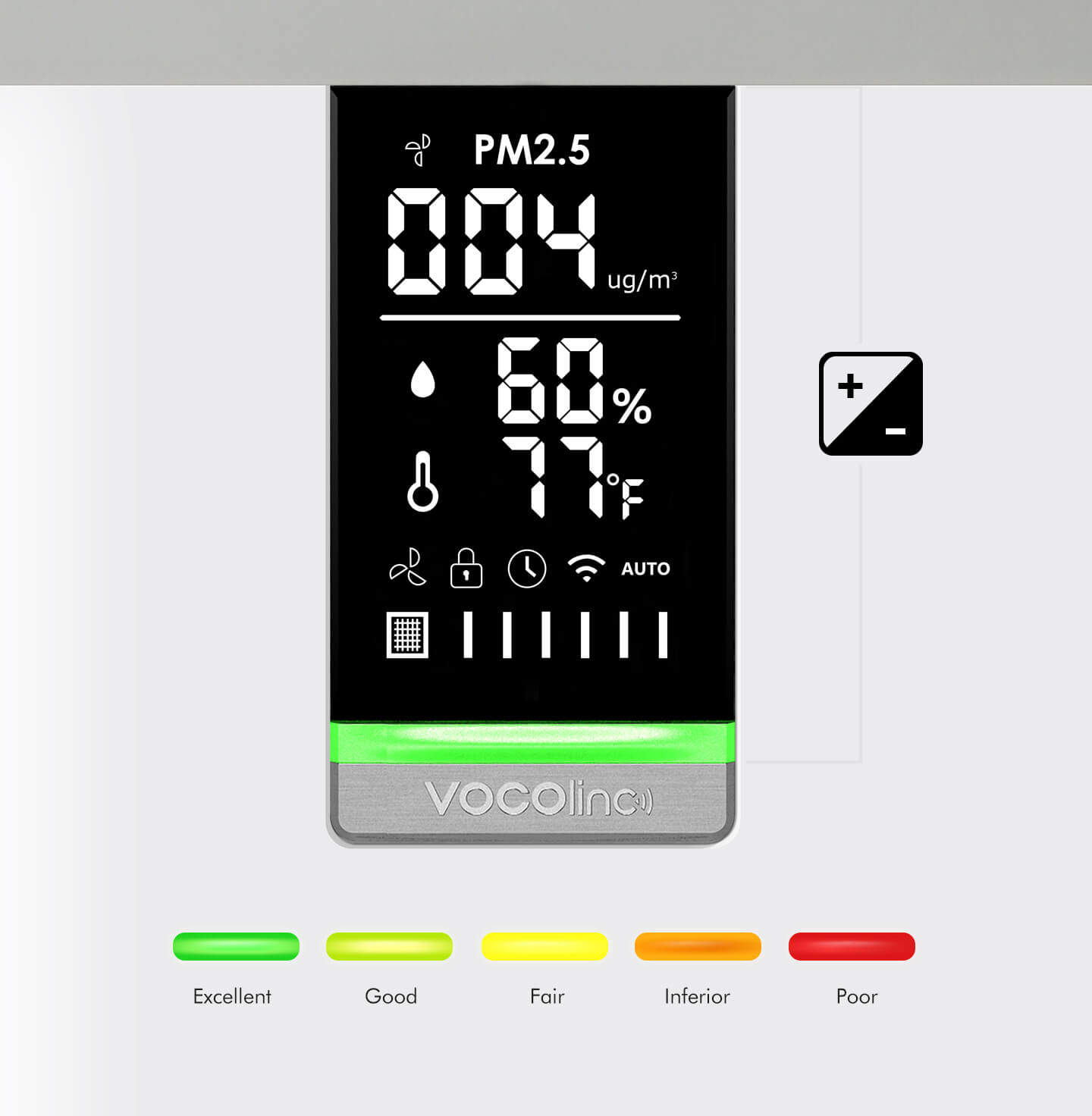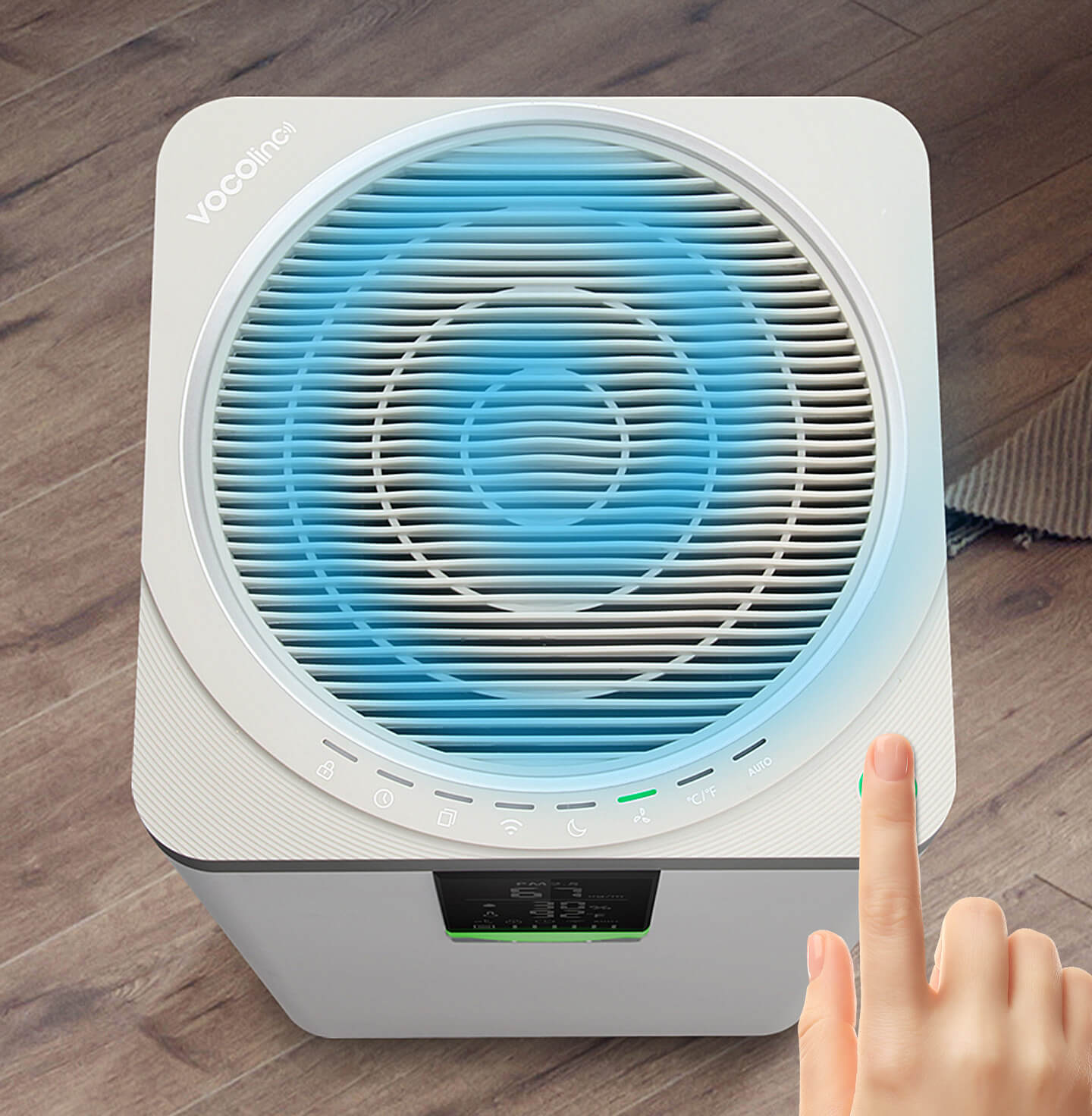 Works great well worth the money
My father in laws apartment smelled like a forest fire from smoking and within days of using this and washing blankets and lots of febreeze .... you wouldn't even know he smokes .... you can see it in action as soon as he lights up air quality meter goes up and then goes back down withing minutes ..... HIGHLY RECOMMEND
Excellent product.
It works great and do the job exceptionally. What I love the most is that filters are available. One of the most important issues about air purifier is that replacement filters are scars. So many people get affected because they got a product that doesn't have a replacement filter.
mazing!! Clears air in minutes
This air purifier is so worth it! We've been getting a lot of smoke from wildfires and this has been helping clear the air in our apartment. I love the app because it tells you the air quality as a number, a color and as "good" "very good" "moderate" etc. Plus it can run on Auto and turn the fan up or down depending on the air quality read it gets.
The day that the smoke was the worst outside I turned on the purifier and at first it read high but only in a few minutes it came down to a "good" level. It truly cuts out the odor of the smoke as well making it easier to breathe inside.
same to working good
Good air purifier work with apple homekit
filter price to replace each 6-12 month same to cost $$
Do not hesitate if you have a sore throat
We live in outskirts of Toronto. We both had burning eyes and sore throats. Within hours we were both feeling better. It is so quiet, you dont hear it running. We are so satisfied we ordered a mini that is arriving today for the bedroom. If you are thinking about an air purifier keep Levoit on top of your list, our health is that important , you want something that works for you.